Dec. 13, 2019
COP25 side event with BUILD_ME representatives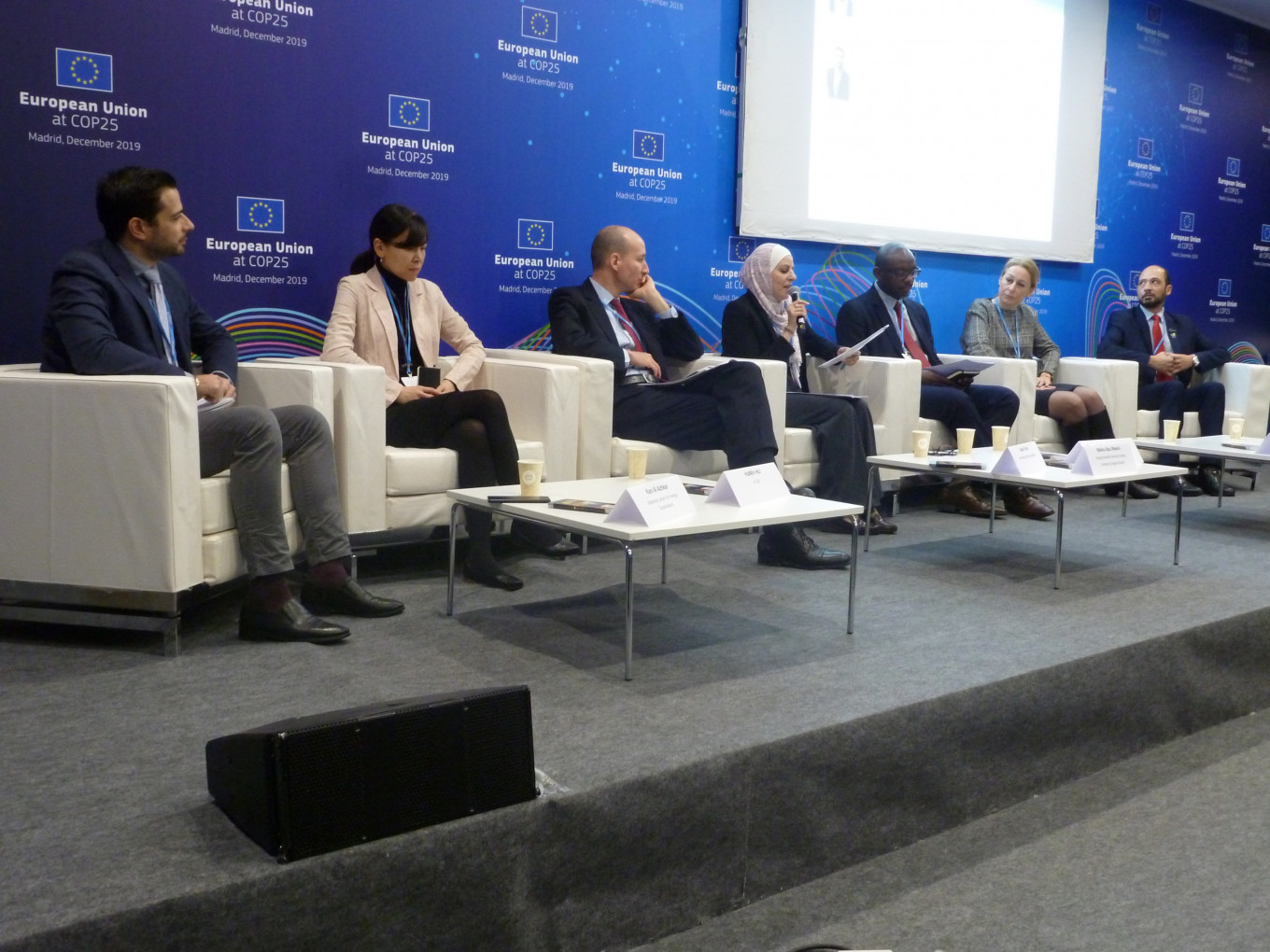 Guidehouse organised a side event at COP25 in the EU Pavilion on Friday 13 titled "Implementing Low Carbon Policies in the Buildings Sector: Hurdles and Ways Forward". Moderated by Dr. Andreas Hermelink and BUILD_ME project manager Sven Schimschar, Guidehouse set the scene by presenting select Guidehouse activities in the buildings sector. This was followed by a moderated dialogue between the audience and our panellists. With seven high-level speakers on the panel providing diverse viewpoints, an interesting debate developed on the most important barriers and solutions for significantly improving the energy performance of the global building sector with a view to achieving the 1.5°C target defined in the Paris Agreement.
In Guidehouse's keynote speech, Andreas and Sven presented three large Guidehouse projects: "BUILD_ME" and "COOL_ME", funded by the International Climate Initiative (IKI) and Guidehouse's recent EU study on building energy renovation activities and the uptake of nearly zero-energy buildings. The panellists, including representatives of the BUILD_ME project, also shared their varied perspectives. Panellists included:
Rani Al Achkar, Director at the Lebanese Center for Energy Conservation (LCEC)
Belal Shqarin, Director of the Climate Change Directorate at the Ministry of Environment, Jordan
Maha Abu Mwais, Royal Scientific Society Jordan, Climate Change Division
Dave Turk, International Energy Agency (Head of Strategic Initiatives Office)
Christine Lemaitre, CEO of the German Sustainable Building Council (DGNB)
Daouda Ndiaye, Islamic Development Bank, Lead Climate Adaptation Specialist
Hu Min HU, Climateworks, China advisor, Kigali Cooling Efficiency Programme (K-CEP)
All presentations confirmed that the very nature of the buildings sector – with its decentralized decision-making for investments – makes it challenging to implement climate-related targets. Tangible results on potential barriers, drivers and solutions are needed to feed constructive stakeholder dialogue. The BUILD_ME project contributed to this with its large-scale surveys on barriers and drivers to invest in energy efficiency in the MENA region. The panellists added very interesting viewpoints and considering the various and concrete actions proposed by Guidehouse and the panellists, meeting overarching goals set by the Paris Agreement and NDCs still appears to be feasible.