Byblos Seaside Residence (Lebanon)
General Information
The Byblos Seaside Residence is the second project developed by Forefront Development. For this ambitious project, Forefront gathered a team with a sense of aesthetics and sustainability. The team is composed of Samir Khairallah & Partners architects and Design Engineering Partners. The residence is situated in Byblos at the waterfront and offers chalets including apartments ranging from 70 m² to 180 m². With these offerings, Forefront is responding to the current needs of the Lebanese real estate market. Units can be combined, serving as a functional and flexible solutions for potential clients.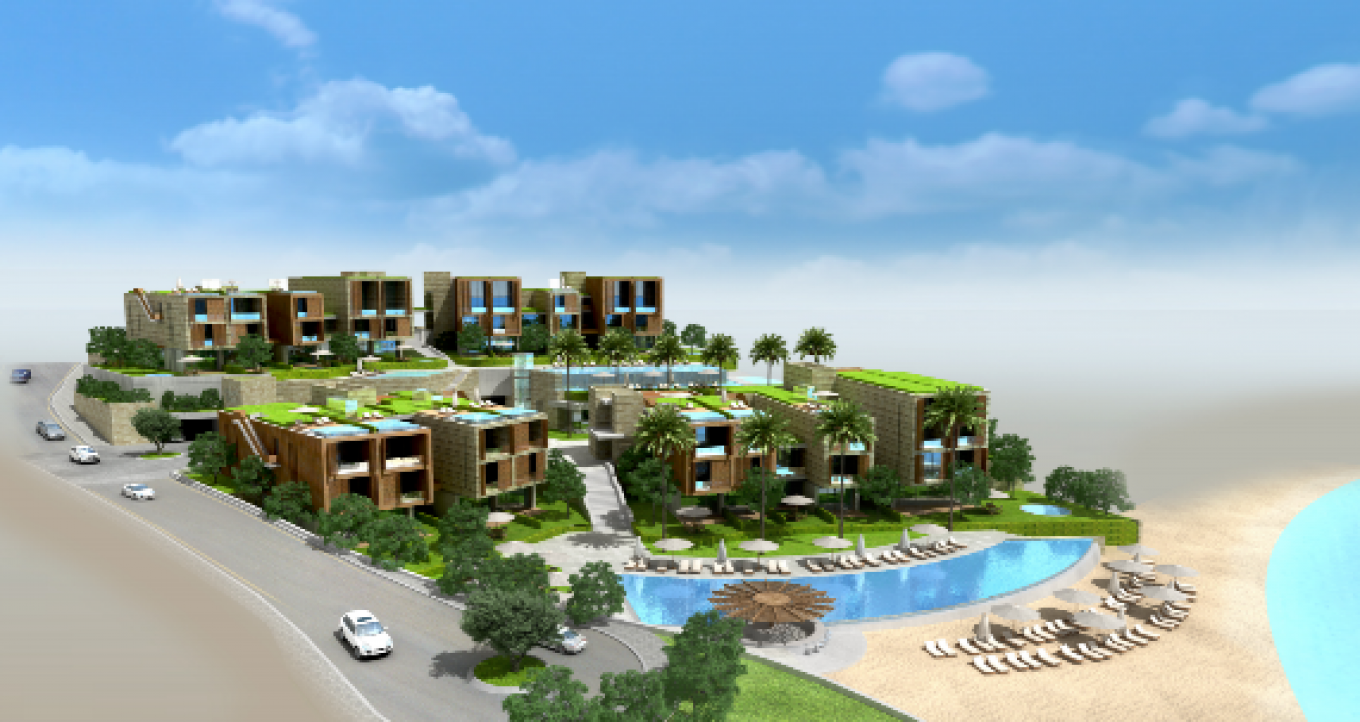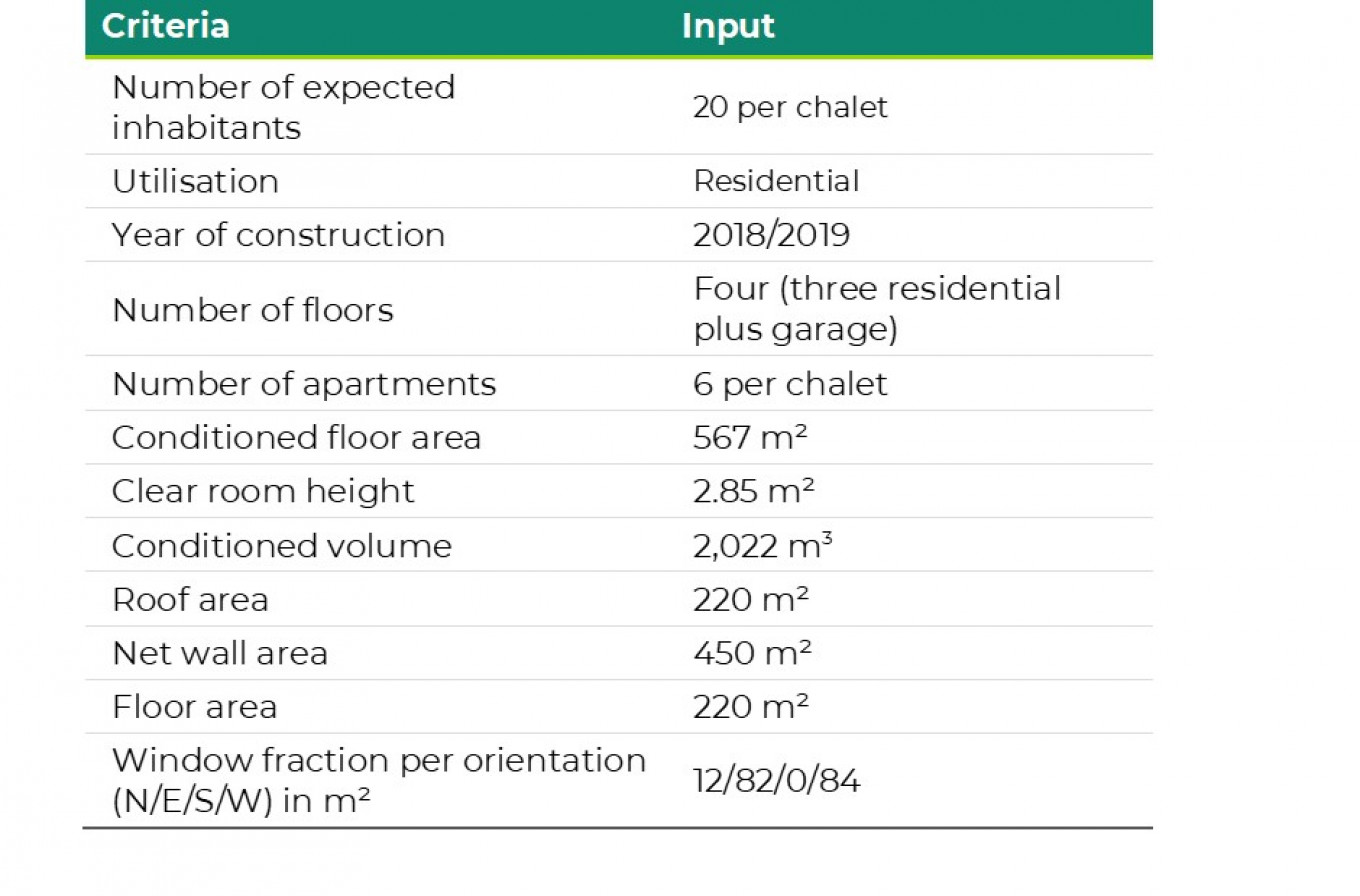 The Seaside Residence in Byblos contains residential properties only. On three residential floors (plus garage), one building / chalet consists of six apartments for expected 20 inhabitants. The conditions floor area amounts to 567 m2 with a clear room height of 2.85 m, resulting in a conditioned volume of 2,022 m3. The cooling degree days are two times higher than the heating degree days.
Baseline and Current Situation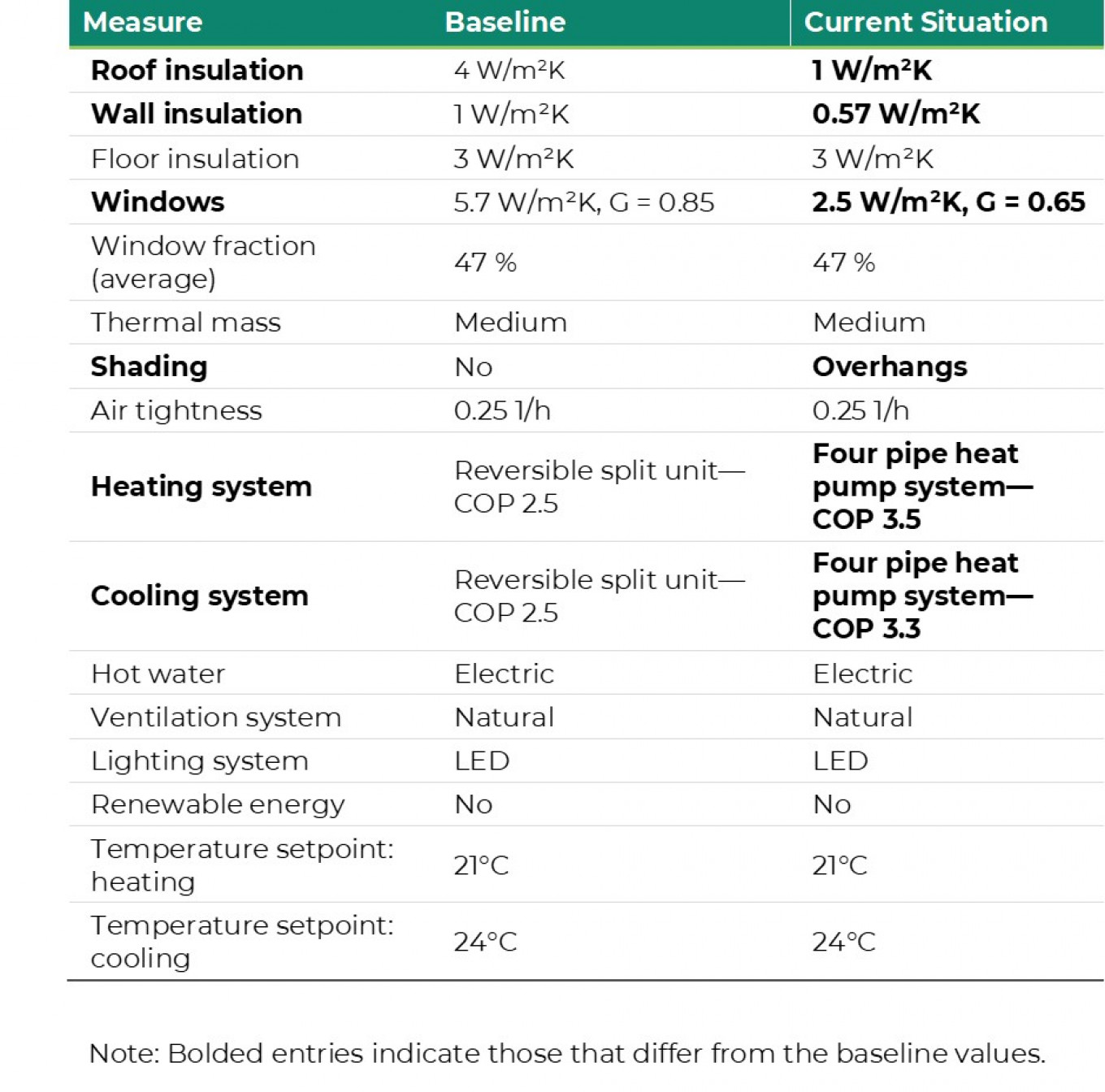 The baseline situation reflects the current state of construction in a respective country, as no building code is enforced in Lebanon. As a result, no thermal insulation has been planned, heating and cooling supply is a reversible split unit with a COP of 2.5, and hot water is supplied by an electric appliance. This approach results in poor thermal quality with a roof U-value of 4 W/m²K, wall U-value of 1 W/m²K, and a floor U-value of 3 W/m²K. The ventilation is natural, and the lighting system is based on LED technology.
The current planning by the project developer, however, includes utilisation of thermal insulation on the roof, windows, and external walls. Additionally, overhangs serve as shading. Furthermore, the heating and cooling system is replaced by a four-pipe heat pump system—COP 3.5 (heating) and COP 3.3 (cooling).
Variants
Variant 1 – Short Payback
With a payback time of less than 2 years, Variant 1 offers energy savings from highly financially feasible measures. The two main selected measures are: reduced window fraction of 30%, and adjustment of temperature setpoint to 20°C (heating) and 26°C (cooling).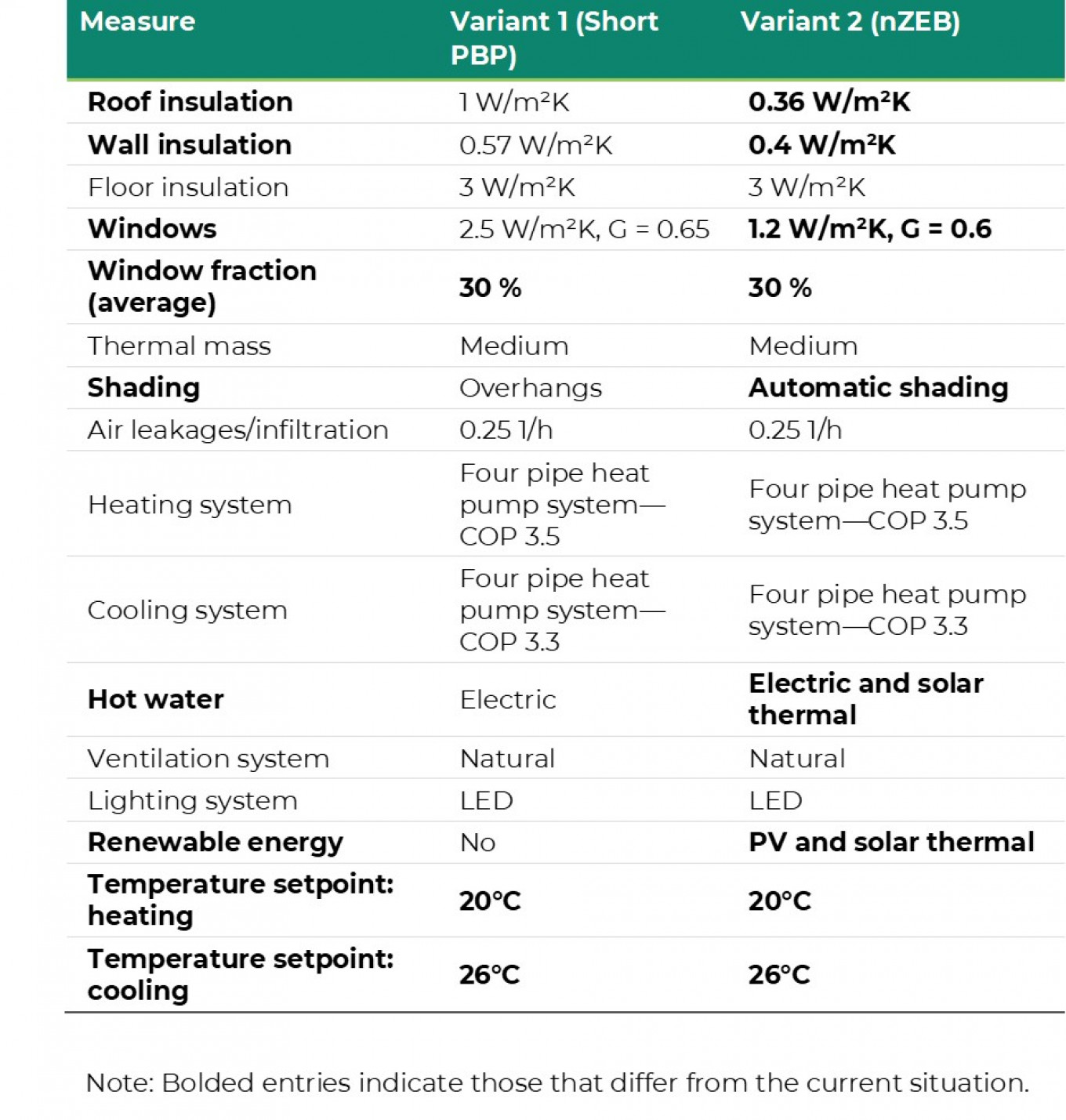 Variant 2 – nZEB
Variant 2 which aims to reach a nearly zero energy building (nZEB) level, consists of the following measures: rooftop PV and solar thermal appliances, efficient windows (U-value 1.2 W/m²K), automatic shading, and an air infiltration rate of 0.25/h. The insulation of the roof and walls is furthermore improved (0.36 W/m²K and 0.4 W/m²K, respectively).
Results
The final energy demand, emissions, and energy costs decrease with increasing investment costs, all three show a similar trend. Between baseline, current situation, and Variant 1, each new introduced variant decreases energy demand, emissions, and energy costs by 30%-50%. The gap between Variant 1 and Variant 2 is different. The final energy demand decreases by 12%, emissions decrease by 95%, and energy costs decrease by 47%. The investment costs show stronger fluctuations. The costs rise about 84% from baseline to current situation before they drop for 12% (comparing current situation and Variant 1). The additional measures of Variant 2 result in a 42% increase in investment costs compared with Variant 1.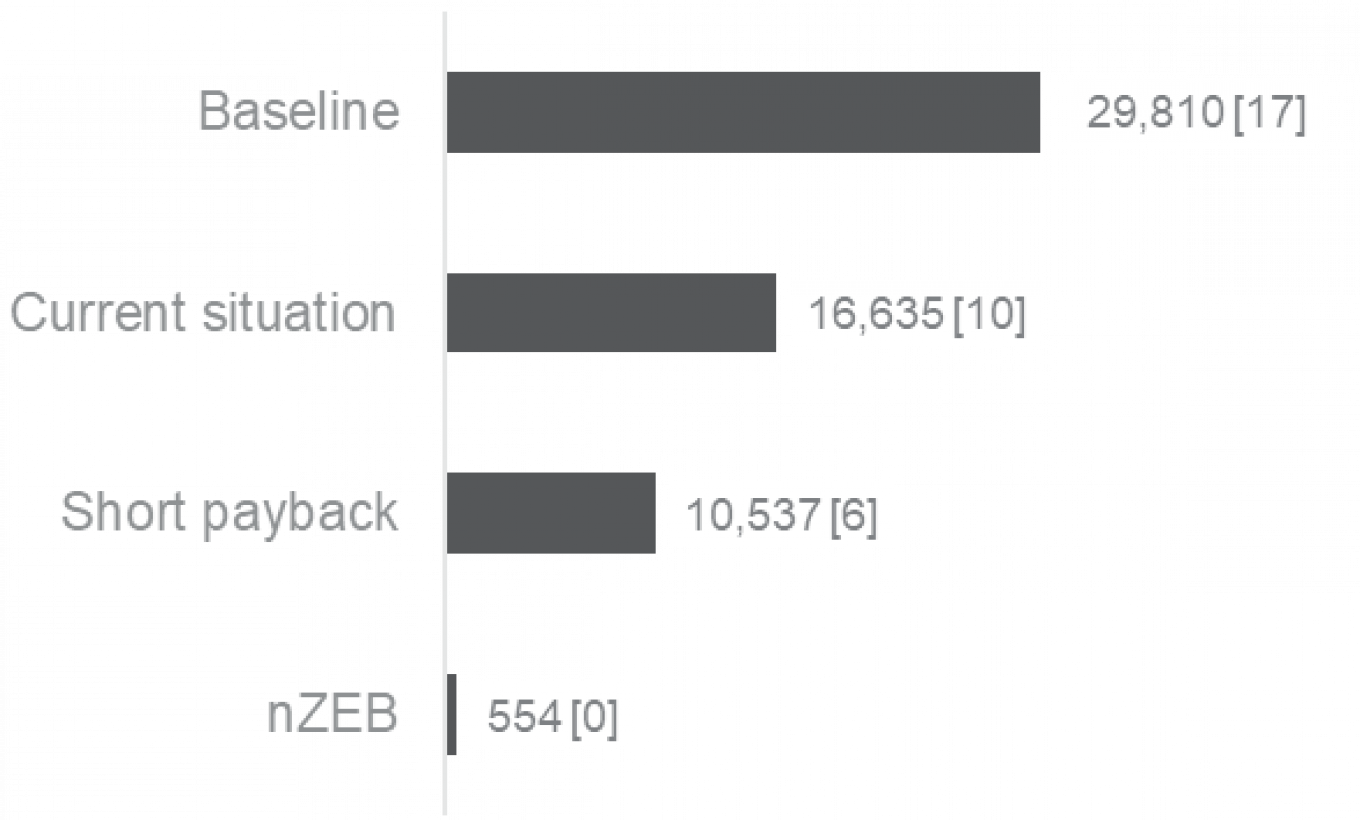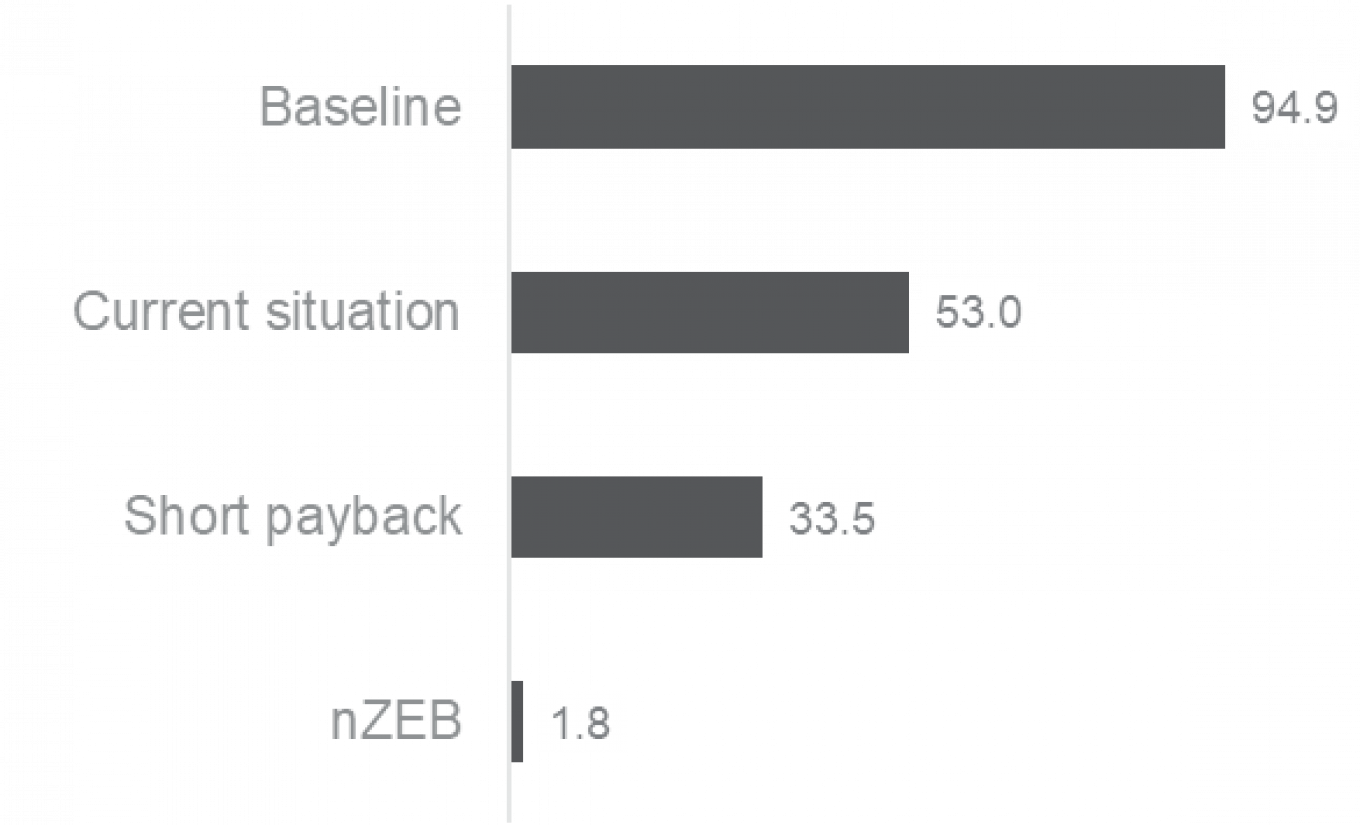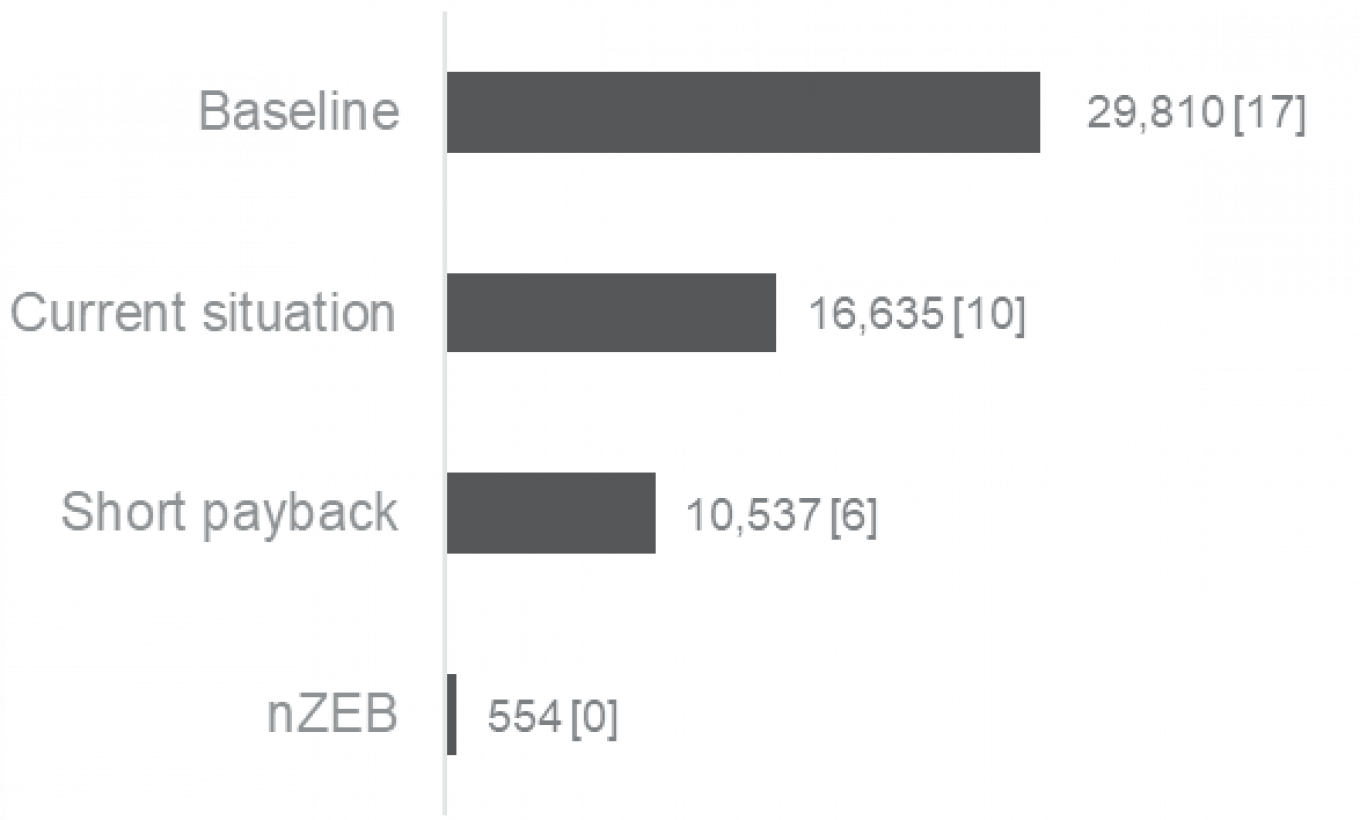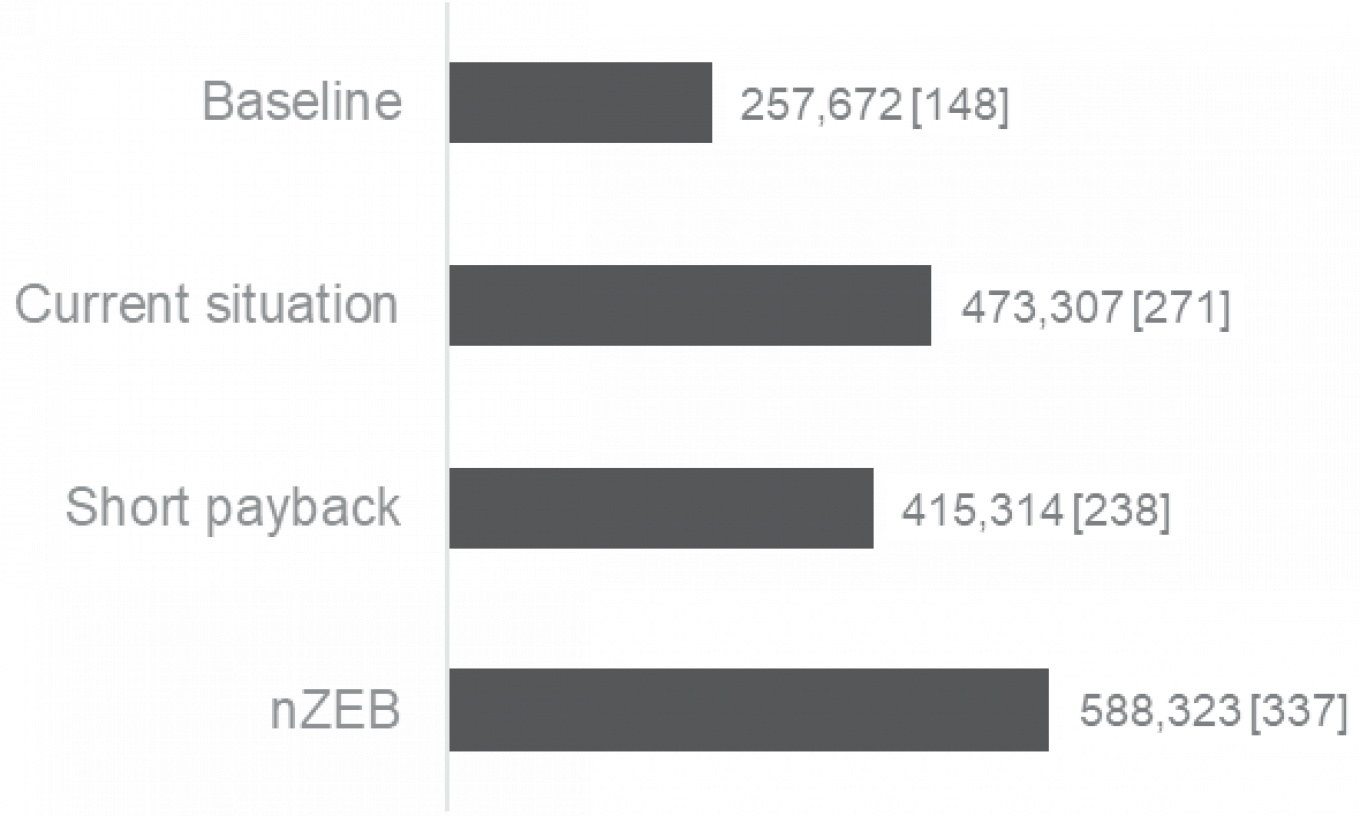 Recommendation
Design Engineering Partners (DEP) confirmed consideration for several of the suggested measures related to HVAC and the building envelope for this project, which was still in the design phase as of December 2018. Specifically, the developers are assessing using heat pumps for cooling and heating, employing double walls with insulation, and insulating the roof and installing windows with the recommended U and G values. A differentiation between short-term, mid-term, and long-term considerations must be made. Short-term considerations include the reduction of the window fraction to a maximum of 30% and the appropriate selection of setting temperature. The use of solar energy (PV and solar thermal) builds the mid-term consideration. A long-term recommendation and best case for an nZEB is to market the development as a frontrunner in the Lebanese green built environment.