Lamartine Hills Residence (Lebanon)
General Information
Lamartine Hills Residence is planned by Dolmen Development, which was founded in 1996 as a contracting company and evolved to cover all aspects of real estate projects. The development is planned for the green Lamartine valley in Bhamdoun, which is 18 km southeast of Beirut. The project offers 21 types of apartments in four blocks, with a private staircase and an elevator for each block. Each block is composed of four floors and a basement with a service area. The total plot area of the site is about 600 m² and rises 1050 m above sea level.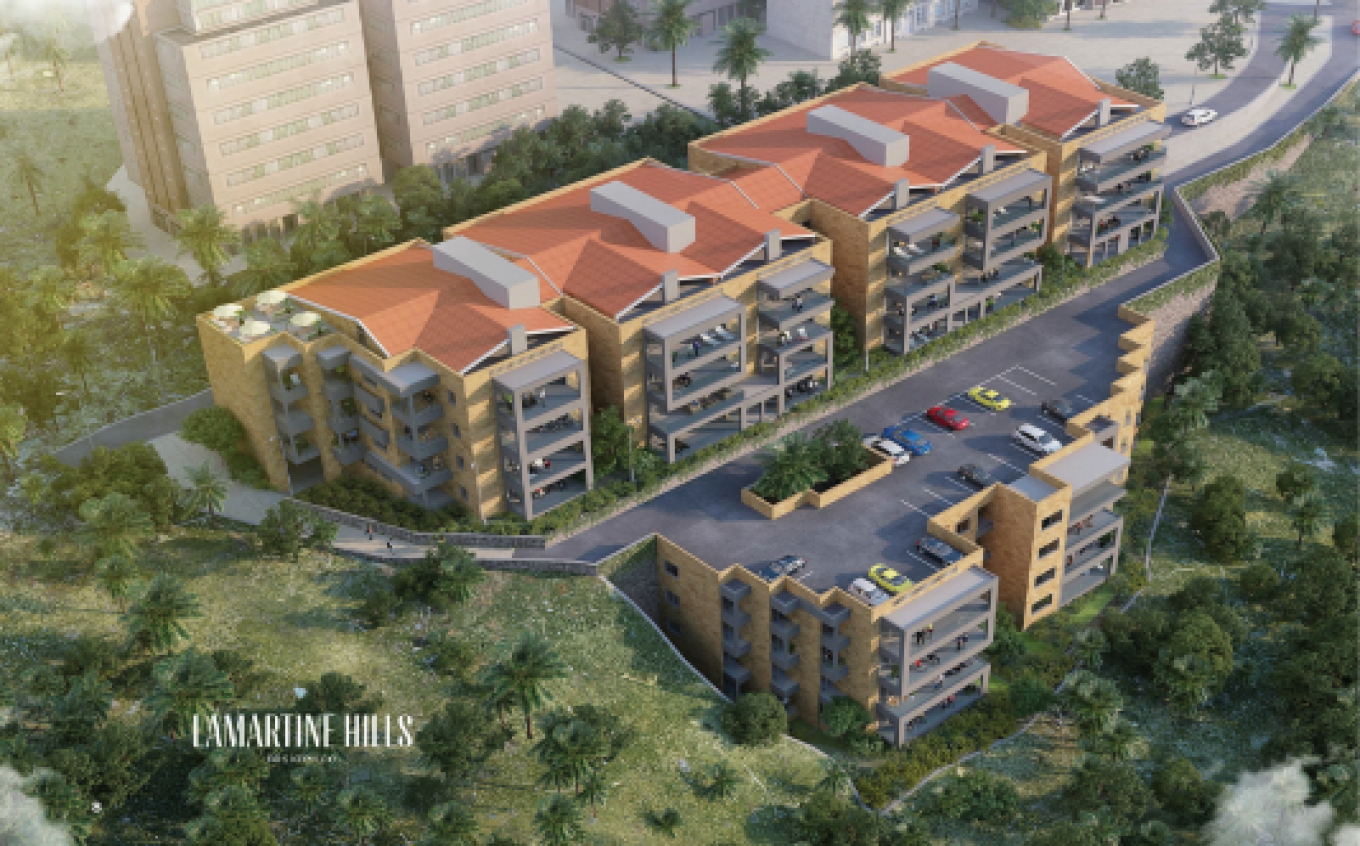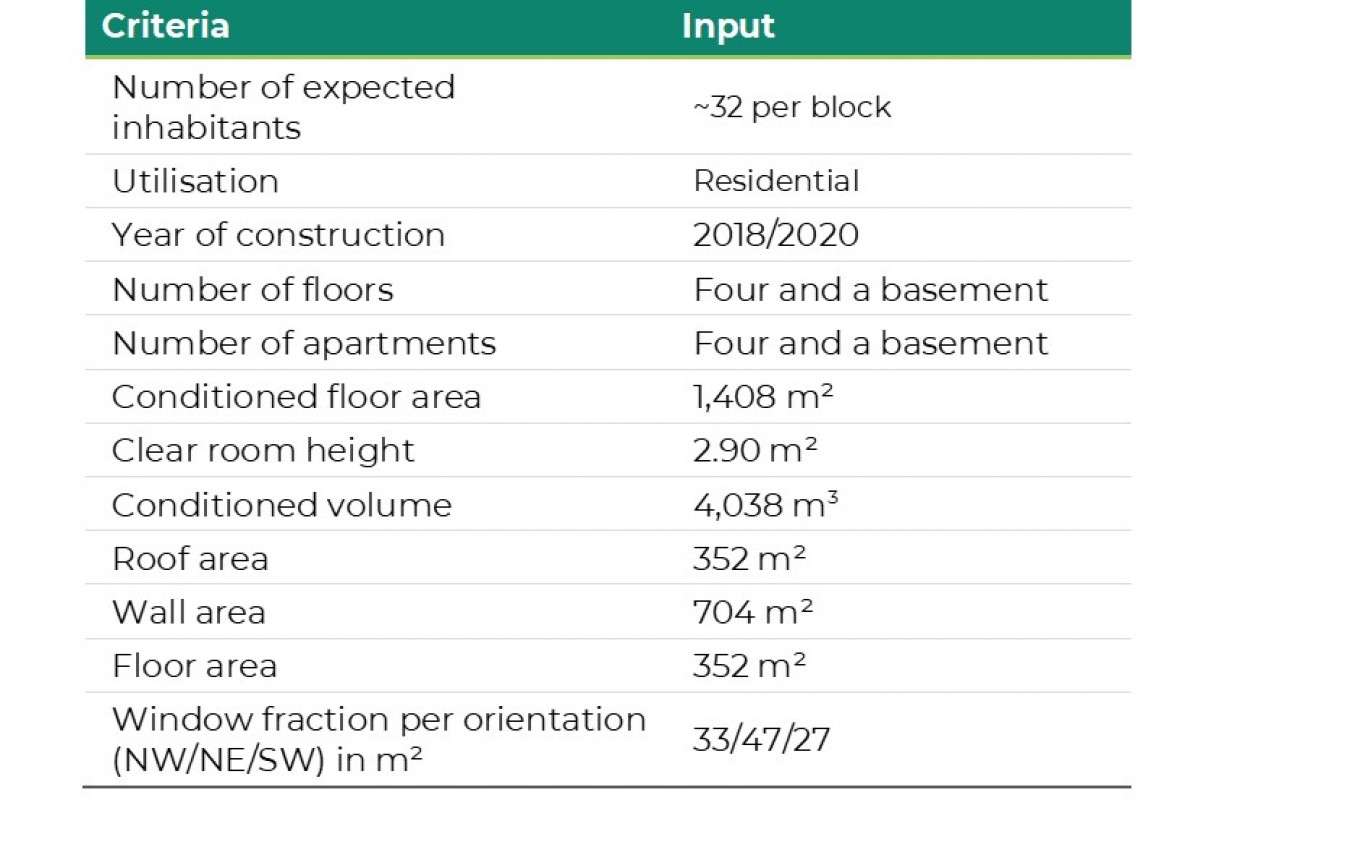 The climate at the project site in Bhamdoun is balanced. However, the temperatures can decrease into ranges less than zero during winter. External temperatures range from less than zero to 37°C with average temperatures around 20°C. January is the coldest month, July is the hottest. The minimum temperature level falls to less than 0°C, which means that frost issues play a role in construction project planning. There is slightly greater need for heating demand rather than cooling, as the high number of 1,517 heating degree days indicate. However, the cooling degree days reach 1,063 due to an annual horizontal solar irradiation of 1,871 kWh/(m²) which makes this location temperature-balanced. Thus, a big potential for renewable energy lies within the solar irradiation in Bhamdoun. Horizontal irradiation of 1,871 kWh/(m²*a) and great than 1,000 kWh/(m²*a) for east, south, and west orientation create opportunities for energy generation through solar radiation and solar air conditioning.
Baseline and Current Situation
The baseline situation reflects the current state of construction in the respective country. Heat supply is realised with diesel boilers and cold supply with split units with a COP of 2.5; and hot water is supplied by an electric instantaneous appliance. Furthermore, no thermal insulation was assumed for the building envelope.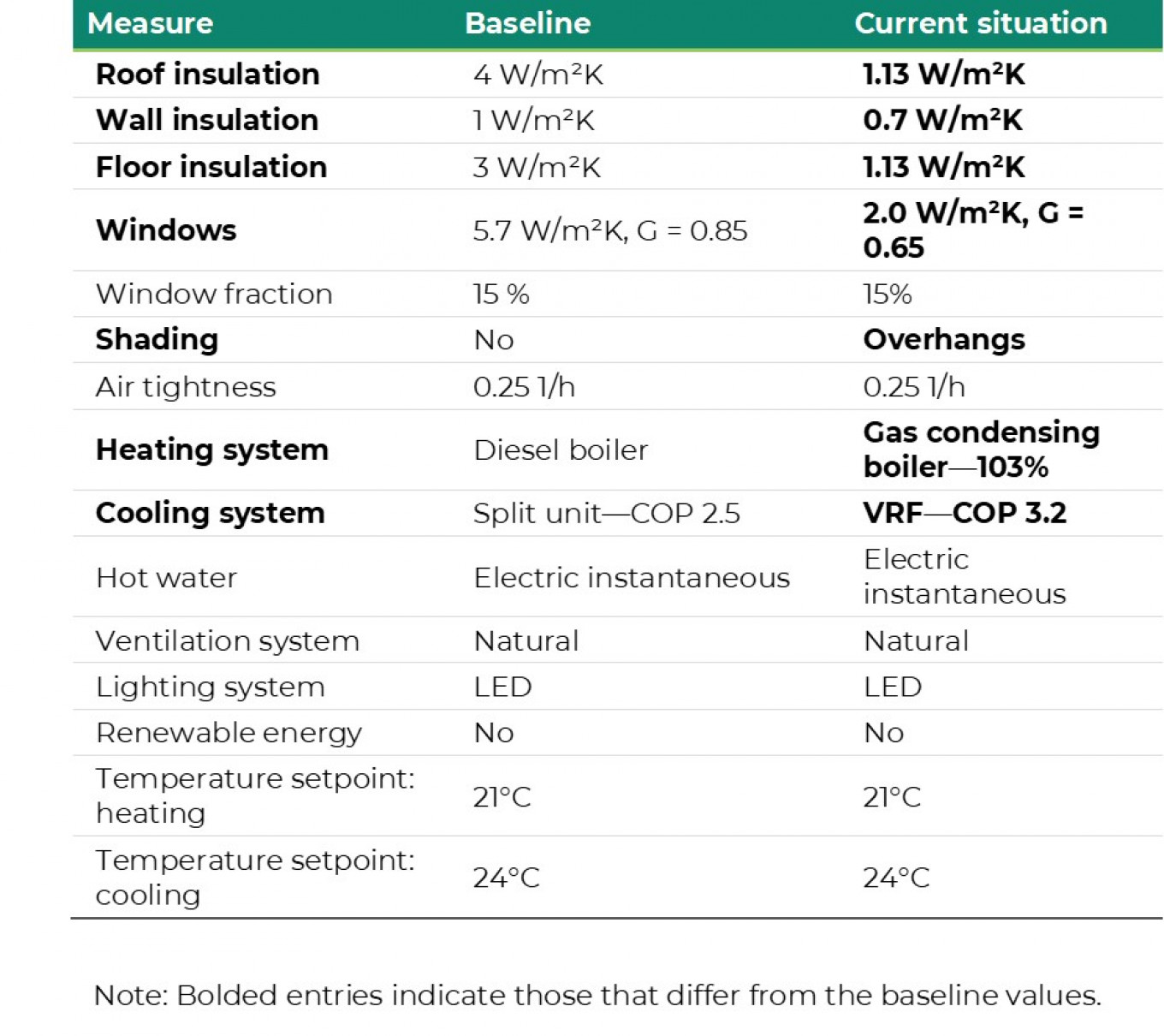 In this baseline scenario, heating energy represents the largest portion of energy demand with a total share of 68%. Domestic hot water demand reaches 11% of total demand, and cooling and lighting reach 17% and 4%, respectively, of total demand. The current situation reaches an energy demand of 131 kWh/(m²*a) and an environmental impact of 61.2 kg CO2e/(m²*a). For a unit of 90 m², the energy cost will reach about EUR 78 per month or LBP 136,380. This data represents the standard building package.
The following current planning has been shared with the BUILD_ME project: Use of thermal insulation in the roof, external walls, floor, and windows to reduce thermal losses; the reduction of solar gains realised through overhangs; and a heating and cooling system exchanged by a gas condensing boiler for heating with an efficiency of 103% and a VRF with COP 3.2 (cooling).
Variants
Technical Description – Variant 1 – Short PBP
The Variant 1 calculates the energy performance of the easily attainable measures that have a payback of less than 2 years. Compared with the current situation, the thermal insulation of roof, exterior walls, floor, and windows is improved to reduce thermal losses. In addition, the temperature setpoint for heating and cooling is adjusted to 26°C (heating) and 20°C (cooling).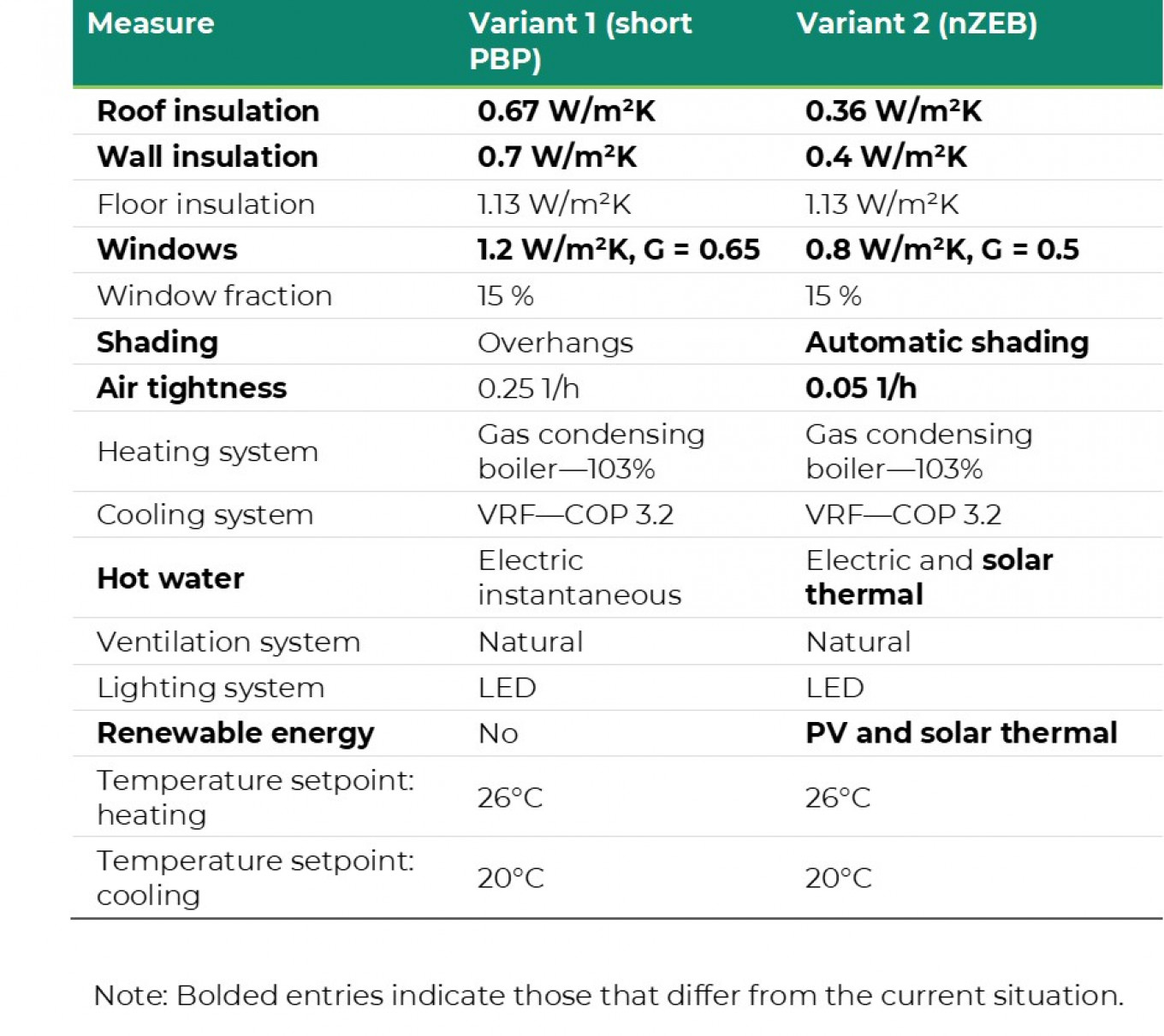 Technical Description – Variant 2 – nZEB
Variant 2 aims to reach a nearly zero energy building (nZEB) level and therefore considers more cost investments than Variant 1. Comparing both variants, Variant 2 includes rooftop PV and solar thermal appliances, efficient windows (U-value 0.8 W/m²K and a G-value 0.5), automatic shading, and an air infiltration rate of 0.05/h. Additionally, the insulation of the roof and walls is further improved (0.36 W/m²K and 0.4 W/m²K).
Results
The investment costs of the three variants increase according to the degree of Energy efficiency improvement. In contrast, the final energy demand, emissions, and energy costs decrease with increasing investment costs. For all four variants, the differences between the baseline and current situation range from 40%-55%, between baseline and Variant 1 range from 55%-65%, and between baseline and Variant 2 range from 80%-90%.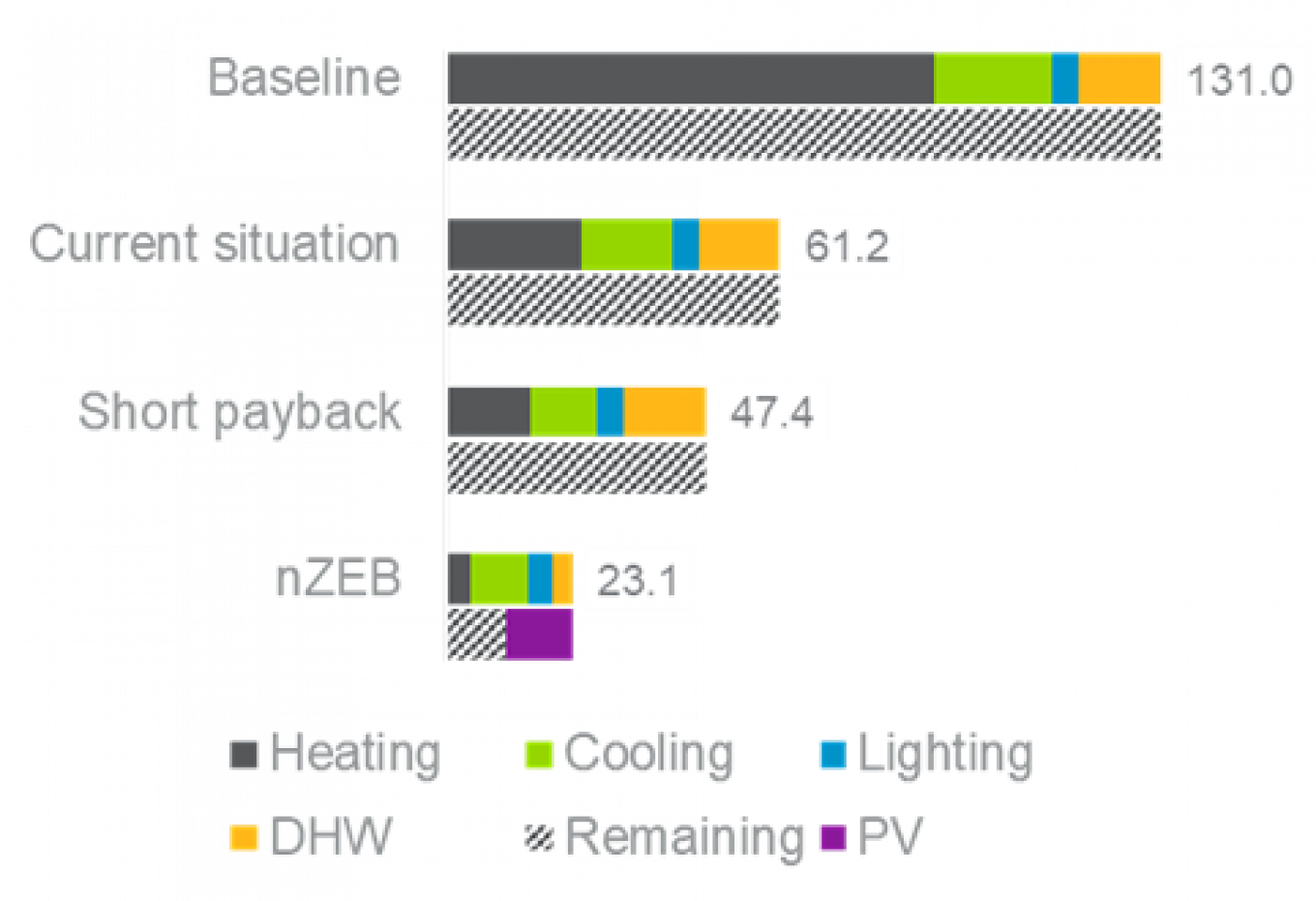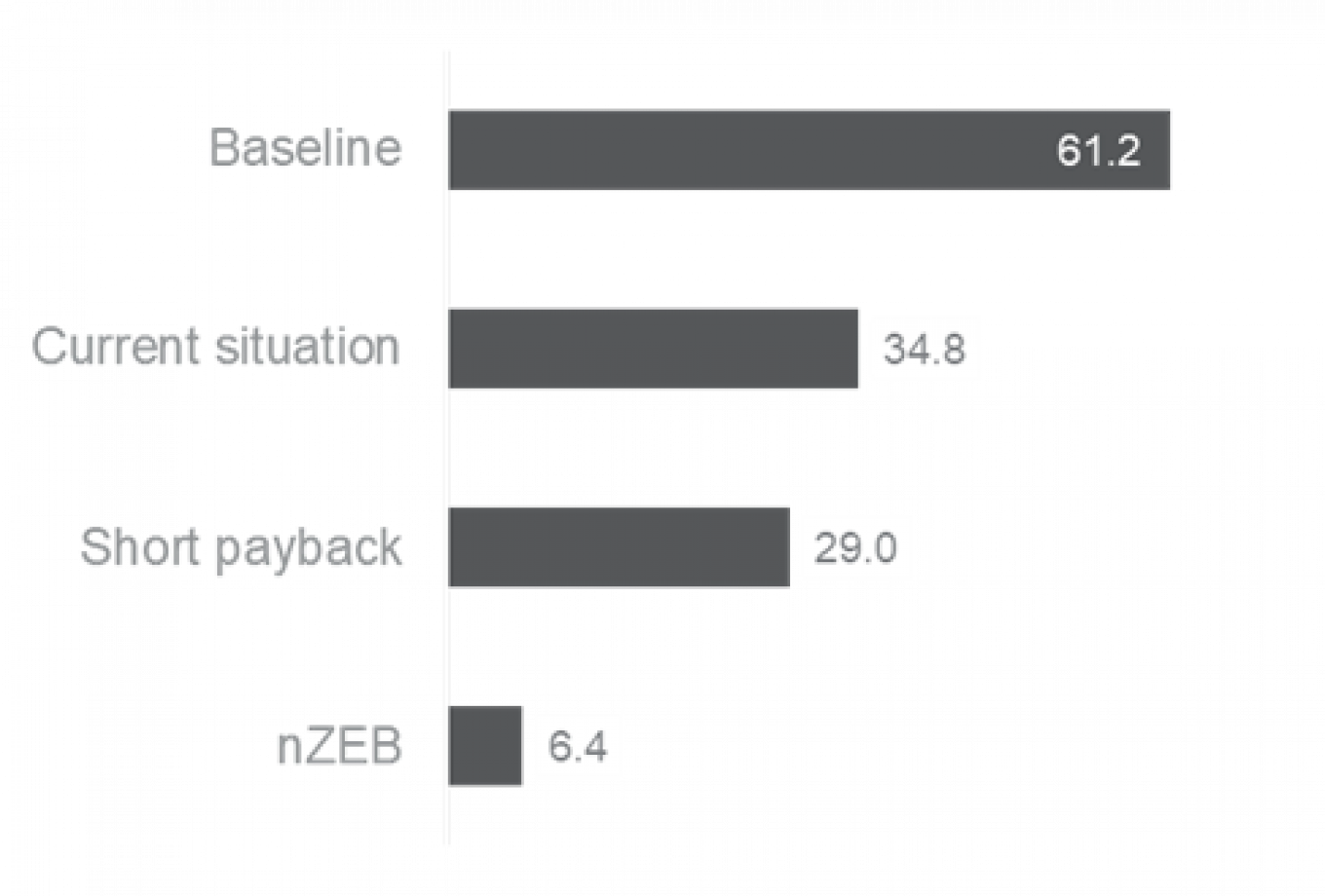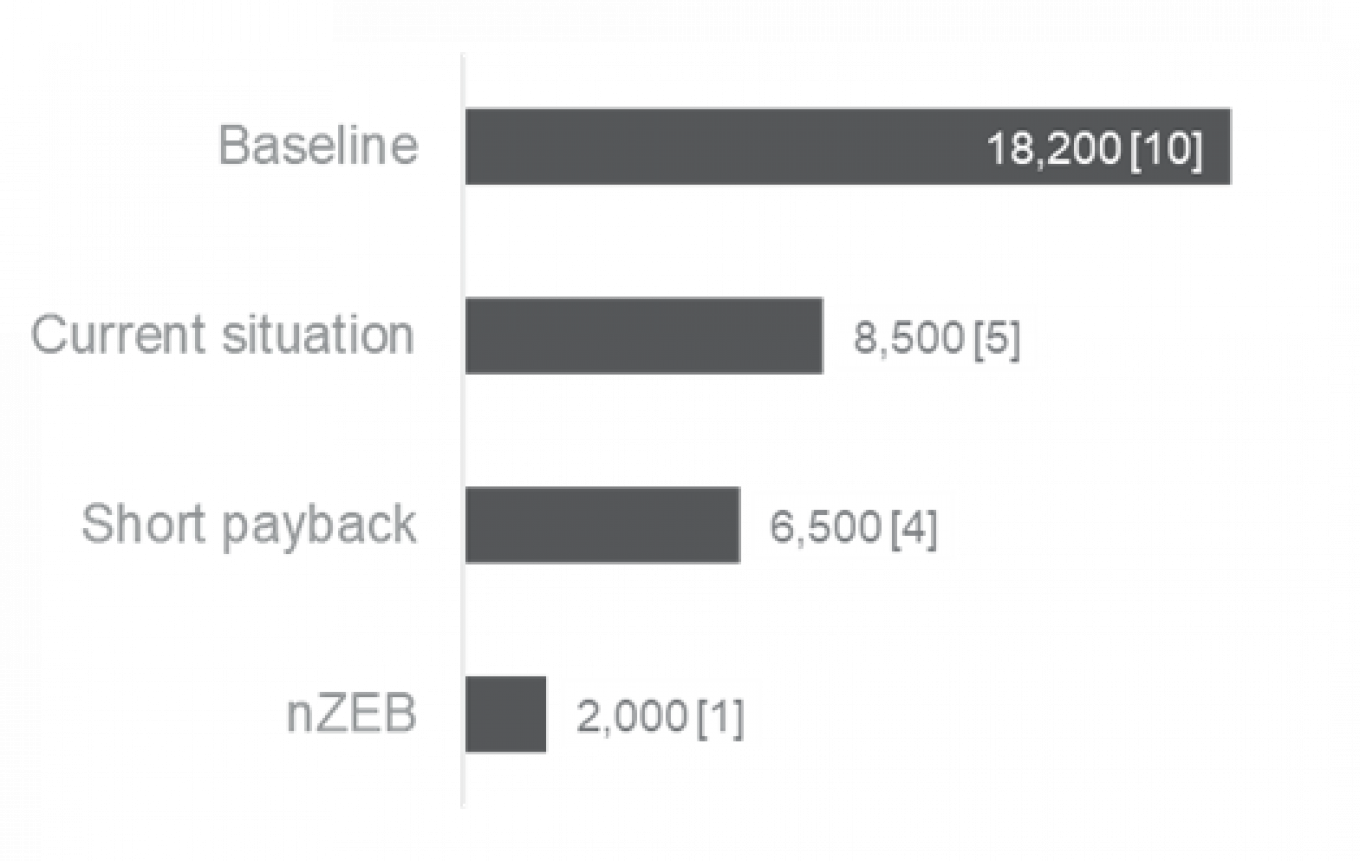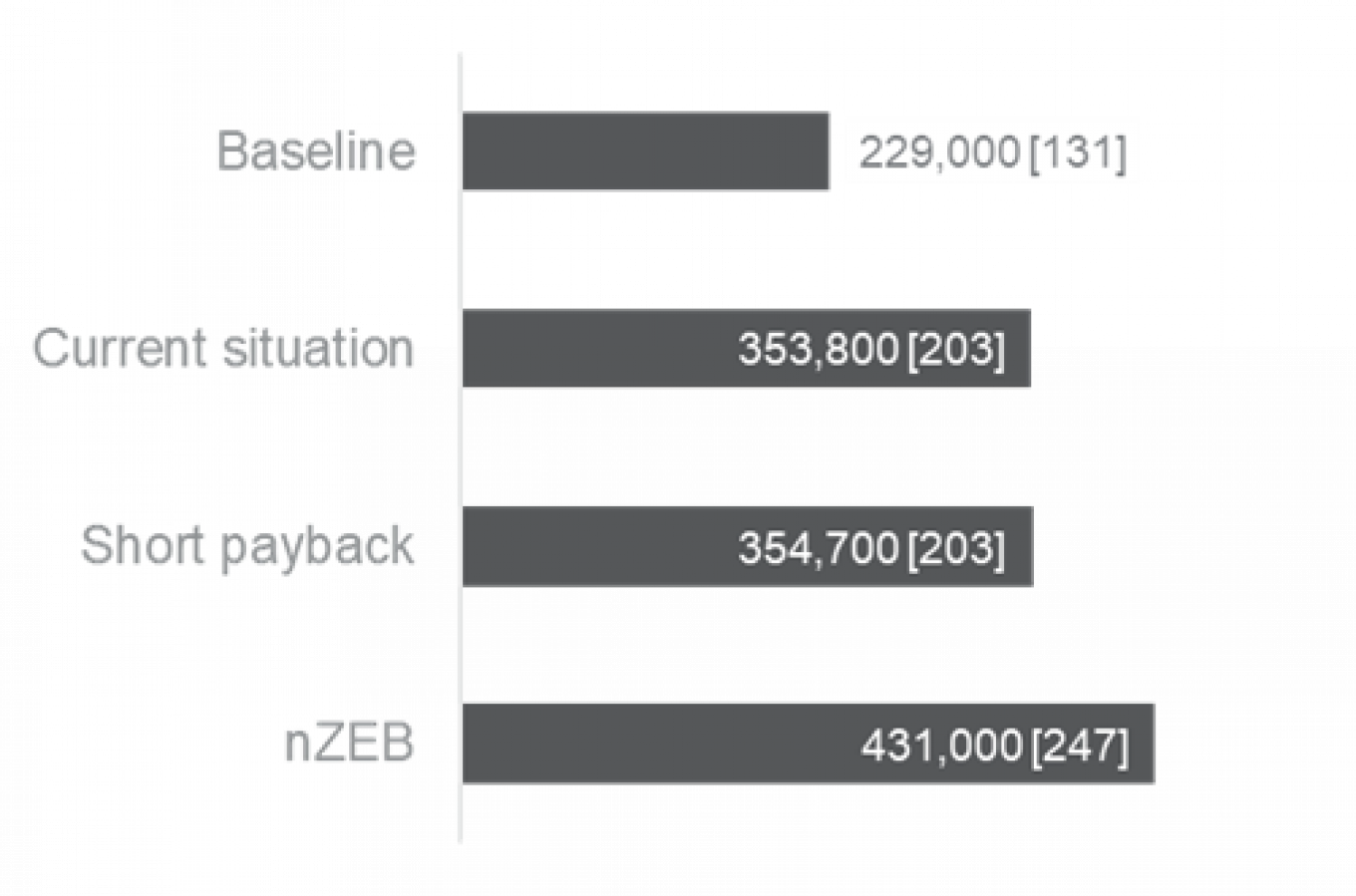 Recommendation
To reduce the energy consumption in the Lamartine Hills Residence, three approaches should be considered factoring in their payback. In the short term, all renewable energy measures with a short payback period should be considered, such as reducing the fraction of windows to a maximum of 30% and educating inhabitants to adjust the target temperature for cooling and heating to 26°C and 20°C, respectively. The implementation of these measures to improve renewable energy is almost cost-neutral.
As a medium-term consideration, an unshaded space on the roof facing south should be reserved for the installation of PV and solar thermal collectors. The low payback period of about 5 years and the visibility of solar energy on the roof supports the marketability of the sustainability of the site. In addition, the use of solar energy on the roof increases roof terrace comfort when the solar system is raised at a height of 3 meters.
As a long-term consideration, a test case of an nZEB package could be implemented as a pioneer in the Lebanese building sector. This project could be marketed as a green development in the Lebanese energy sector.