Abu Dhabi, United Arab Emirates
International Renewable Energy Agency (IRENA) headquarters
Woods Bagot's built the International Renewable Energy Agency (IRENA) headquarters in Masdar City in 2015. This office building comprises 7 floors and has in total a built-up area of 32065 m². The IRENA HQ design prioritises the use of passive design strategies, whereby the building has demonstrated a greater than 50% reduction in the cooling demand. The passive design strategies include enhanced thermal performance of the building envelope, an integrated shading strategy, and maximum daylight and views. The building demands 42% less energy than global energy-efficiency standards due to passive design and smart energy management systems.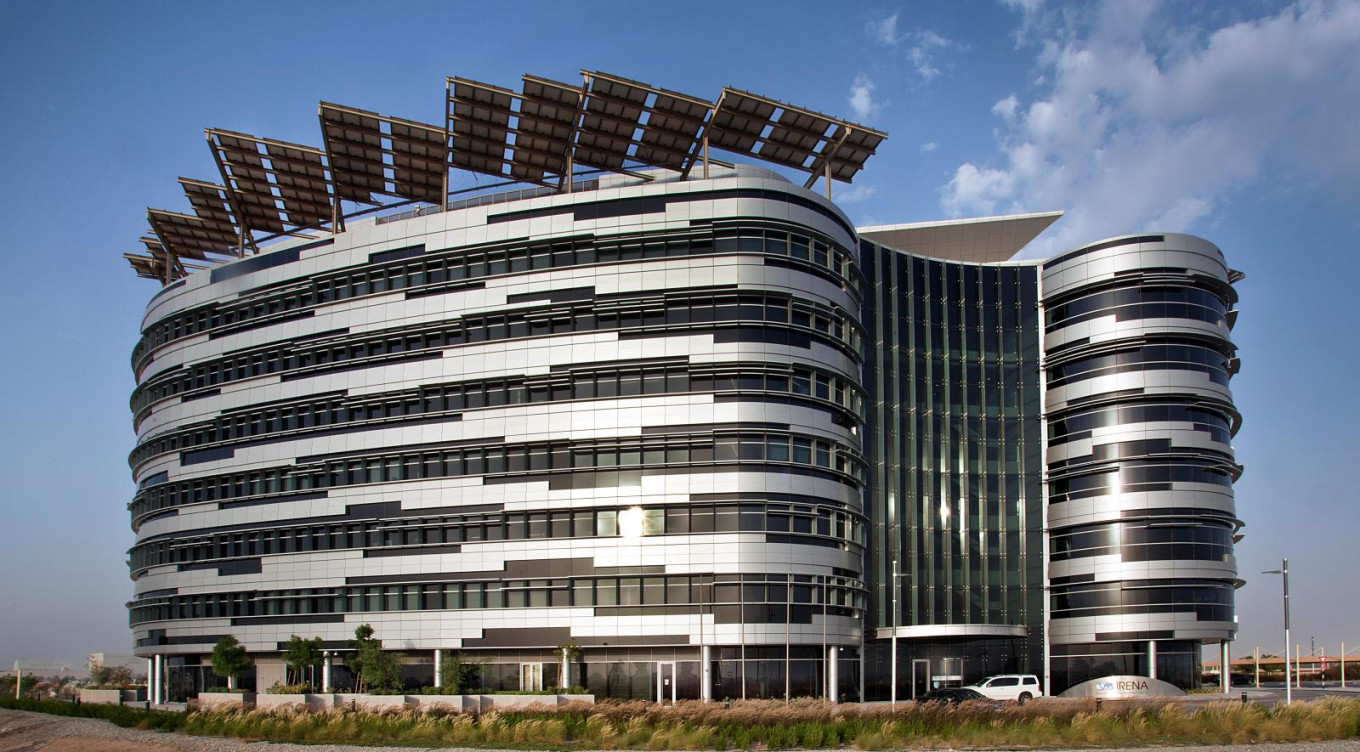 Project info
Construction phase

New construction

Building type

Non-residential building

Detailed building type

Office

Net floor area

32065 m2

Stories

7 stories

Construction type

Steel Frame

Original construction year of the building

2015

Project contact

Tarig Tag Alasfia

Contact email address

info@irena.org
Project team
Developer(s)/owner(s)

Masdar (Abu Dhabi future energy company)

Architect(s)

Woods Bagot

Energy efficiency consultant(s)

Burohappold engineering
Building Rating and Certifications systems
Rating and certifications systems

Pearl Rating System for Estidama
Building Envelope
External walls
U-Value

0.2 W/(m²*K)
Roof
U-Value

0.2 W/(m²*K)
Openings and windows
Overall u-value window

1.4 W/(m²*K)
Basement floor
Description of construction

N/A
Technical Building Systems
Ventilation system
Type of ventilation

Mechanical ventilation system with heat recovery

Description

Special low-power air handling units provide cold air to the ventilation system. The AHU are fitted with high-efficiency rotary thermal wheels for sensible and latent heat recovery. Up to 75% of the energy in the exhaust is recovered.
Space cooling system
Primary space cooling system

Description

The cooling system is supplied by the water-based district cooling network of Masdar city. Special low-power air handling units provide cold air to the ventilation system of the building.
Space heating system
Primary Space heating system

District heating
Water heater system
Primary water heater system

Solar Thermal collector on the roof

Description

The building incorporates a solar thermal system, which supplies 75% of the building's hot water demand.
Lighting system
Primary lighting system

LED (Light emitting diode lamps)

Efficiency

100
Shading devices
Type of shading system installed

Static (fix) shading systems as part of the building architecture (e.g. Maschrabiyya, porch roofs, pergolas)

Description

Permanent shades installed outside the windows maximise the light entering the room while minimising the heating effect in the room. All buildings in the city have been oriented along the direction of typical wind flow. This helps to keep the temperature of the city noticeably lower than the outside, which in turn helps to significantly reduce air conditioning–related power consumption.
Photovoltaics
Total module area

1000 m²

Description

PV rooftop system produce 305,000 kWh annually
Other technical building systems
Description

PV rooftop system produce 305,000 kWh annually on an area of 1000 m²
Final Energy Demand
Total specific final energy demand

121 kWh/(m²*a)