Al Wahat al-bahareya, Egypt
Royal Herbs Farm Complex-Engineers' Housing
The Bahareya Village is one-of-a-kind project providing employees and visitors with an eco-friendly living space. It is the first TARSHEED Certified green building from the Egypt Green Building Council (Egypt GBC) in the areas of energy, water, and habitat which is imperative for the sustainable lifestyle that the Royal Herbs Company (the owner) is striving for. The Bahareya Village comprises three sustainable buildings, an Engineers housing building, a Guest house and a Workers housing building. The Engineers housing building is capable of housing up to 10 engineers. The engineers' residence saves up to 61% on energy and 50% on water.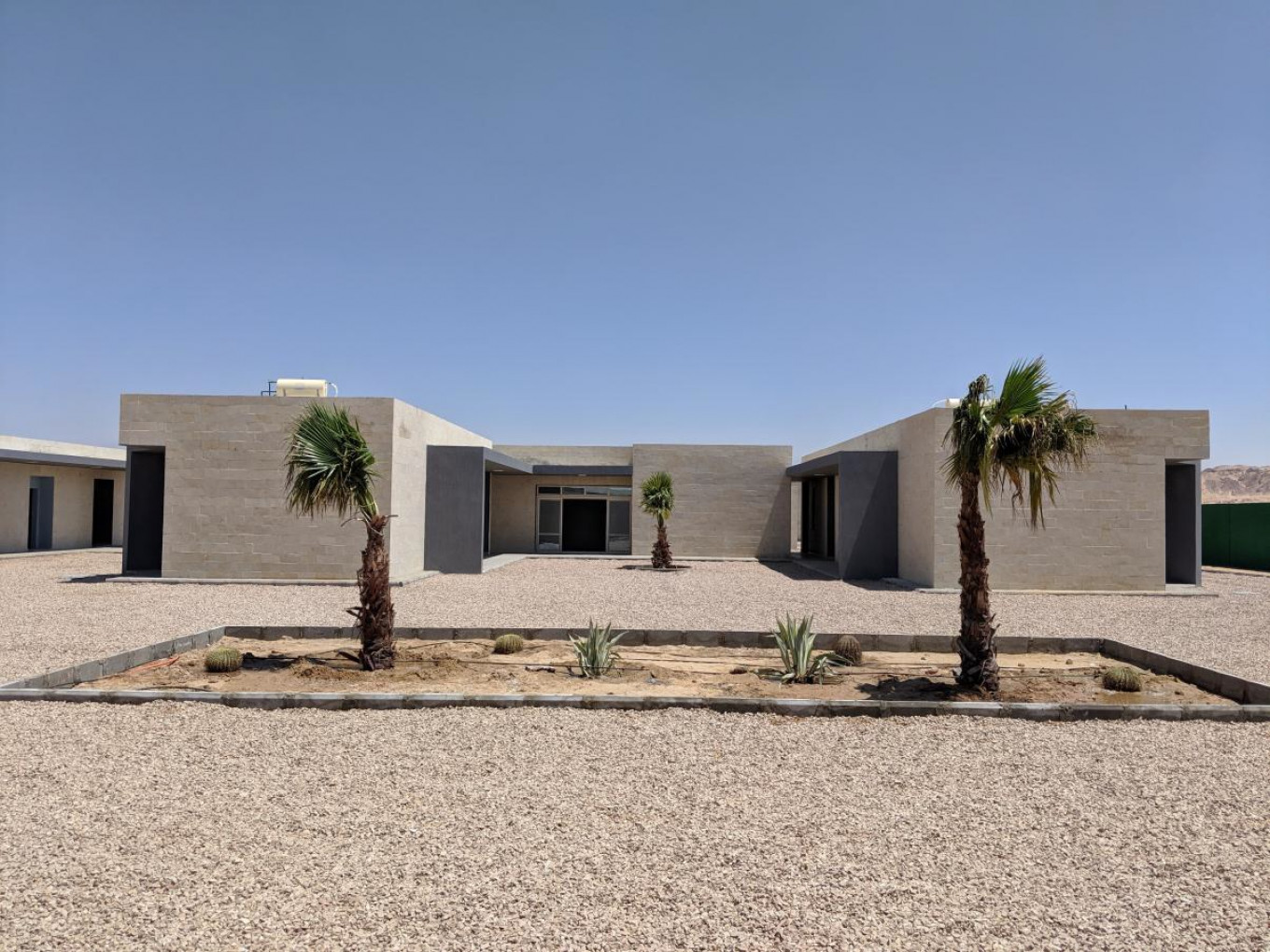 Description
Smarter design used in the Engineers housing building at The Bahareya Village reduces the need for electrical-powered cooling, making people more comfortable and allowing them to continue their jobs even in the heat. Heat-absorbing materials and other cooling techniques are used in the building design like heat-reflecting roofs in order to keep buildings cooler and orienting the structures to best shed heat. PV solar panels are also installed on the residential facility of 'The Bahareya Village'. Integrating outdoor and indoor elements has helped cool the air coming into interiors by almost 5 degrees. The construction also incorporated locally sourced materials. The Engineers housing has spaces promoting social interaction, including a cafeteria, a mosque, outdoor seating areas, and multi-purpose rooms, as well as an in-house clinic offering medical services to the residents and shaded parking. The construction process engaged employees and partners of Royal Herbs, giving all parties the chance to give back. This was done with the aim to create a home away from home for workers.
Project info
Construction phase

New construction

Building type

Non-residential building

Net floor area

295 m2

Stories

1 story

Construction type

Concrete

Original construction year of the building

2015

Project contact

Eng. Salma Khalil

Contact email address

salma.khalil@royalherbs.com
Project team
Developer(s)/owner(s)

Royal Herbs

Architect(s)

ECOnsult

Energy efficiency consultant(s)

ECOnsult
Building Rating and Certifications systems
Rating and certifications systems

Tarsheed
Building Envelope
External walls
Description of construction

121mm + 120 mm + 7 mm rockwool insulation
Roof
Roof type

Flat roof
Openings and windows
Glazing type

Double glazed

Description of construction

Use Low-E coated glass for all windows with width 800mm or larger/Use double glazing with higher thermal performance glass
Additional thermal insulation materials
Specification

Roof insulation: 75mm heat insulating foam
Technical Building Systems
Space cooling system
Description

wall fans
Water heater system
Primary water heater system

Solar Thermal collector on the roof
Lighting system
Primary lighting system

LED (Light emitting diode lamps)
Shading devices
Type of shading system installed

Static (fix) shading systems as part of the building architecture (e.g. Maschrabiyya, porch roofs, pergolas)
Photovoltaics
Capacity

70 kWp

Description

This is the total capacity for several buildings within the same project.