Al Wahat al-bahareya, Egypt
Royal Herbs Farm Complex-Guest House
The Bahareya Village is built in a desert landscape around 450 kilometres outside Cairo. It is home to the farming community engaged by organic tea producer, Royal Herbs. Its solar powered sustainable campus is located beneath a mountain range in Egypt's western desert. The eco-village consists of three sustainable buildings, an Engineers housing building, a Guest house and a workers housing building. The guest house building saves up to 63% on energy and 36% on water.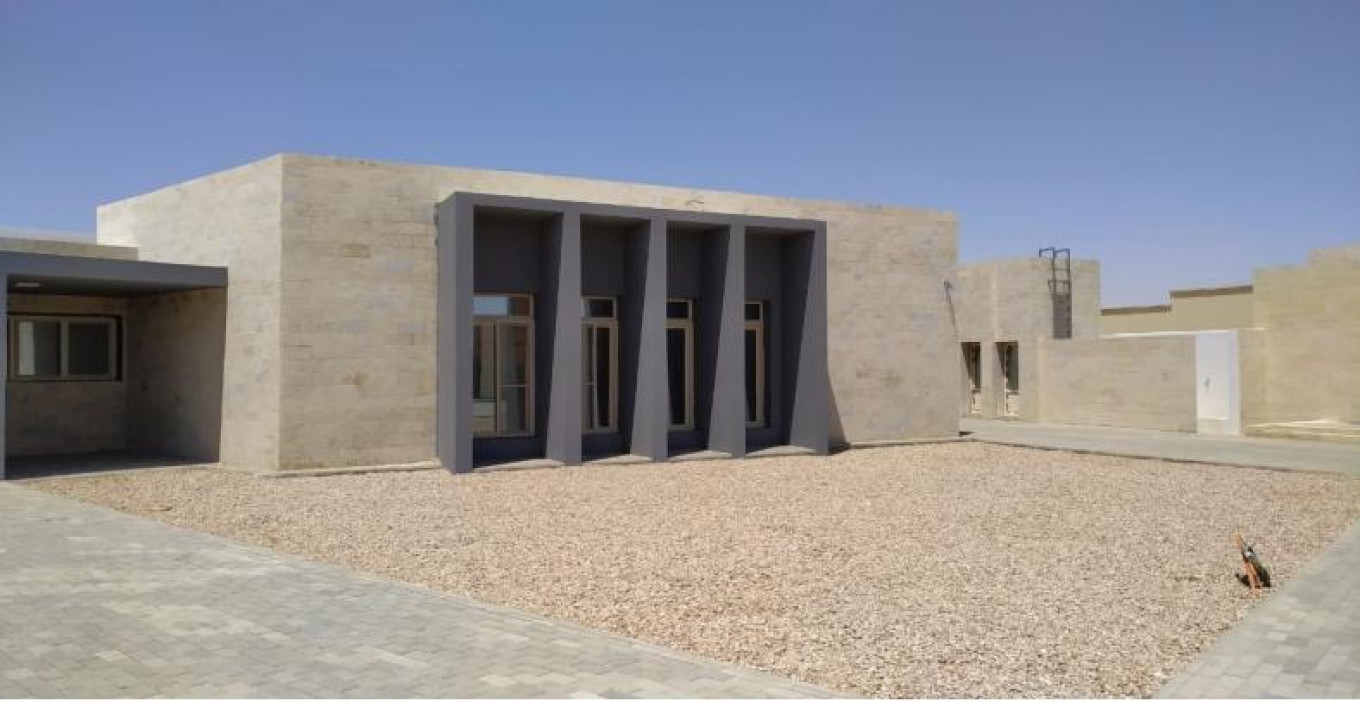 Description
"The buildings at the Bahareya village are consisting of housing to about 150 people, a cafeteria, medical facilities, mosque and communal spaces. The guest house building includes bedrooms, private lounge, multipurpose and meeting hall with a shaded parking. Gravel manufactured from recycled construction waste provides the base for the building concrete structures. The building is adapted to the natural airflow and sunlight on location over time, discovering ways to manipulate the breeze and enhance shade. Cantilevered shelter is adopted for walkways leading to entrances; deep shaded areas in dark colors help to reduce temperatures by controlling the amount of air exposed to light. Cacti scattered throughout the campus offer splashes of greenery without compromising on a commitment to water efficiency. "
Project info
Construction phase

New construction

Building type

Non-residential building

Net floor area

583 m2

Stories

1 story

Construction type

Concrete

Original construction year of the building

2015

Project contact

Eng. Salma Khalil

Contact email address

salma.khalil@royalherbs.com
Project team
Developer(s)/owner(s)

Royal Herbs

Architect(s)

ECOnsult

Energy efficiency consultant(s)

ECOnsult
Building Rating and Certifications systems
Rating and certifications systems

Tarsheed
Building Envelope
External walls
Description of construction

"120 + 120 mm + 7 mm rockwool insulaton"
Roof
Roof type

Flat roof
Openings and windows
Glazing type

Double glazed

Description of construction

Use Low-E coated glass for all windows with width 800mm or larger/Use double glazing with higher thermal performance glass
Additional thermal insulation materials
Specification

Roof insulation: 75mm heat insulating foam
Technical Building Systems
Space cooling system
Description

wall fans
Water heater system
Primary water heater system

Solar Thermal collector on the roof
Lighting system
Primary lighting system

LED (Light emitting diode lamps)
Shading devices
Type of shading system installed

Static (fix) shading systems as part of the building architecture (e.g. Maschrabiyya, porch roofs, pergolas)
Photovoltaics
Capacity

70 kWp

Description

this is the total capacity for several buildings within the same project.