Al Wahat al-bahareya, Egypt
Royal Herbs Farm Complex-Workers' Housing
Royal Herbs, Egypt's cultivator, producer, and supplier of premium quality, all-natural healthy infusion, inaugurated the first ever certified green building for local workers, named 'The Bahareya Village', in an effort to give back to the community and promote a more-sustainable way of life for its employees. Incorporating only local labor force as well as material in its design, the sustainable facility, located near Baweety, Bahareya Oasis, is capable of housing up to 150 workers. The workers' housing building saves up to 58% of energy and 53% of water.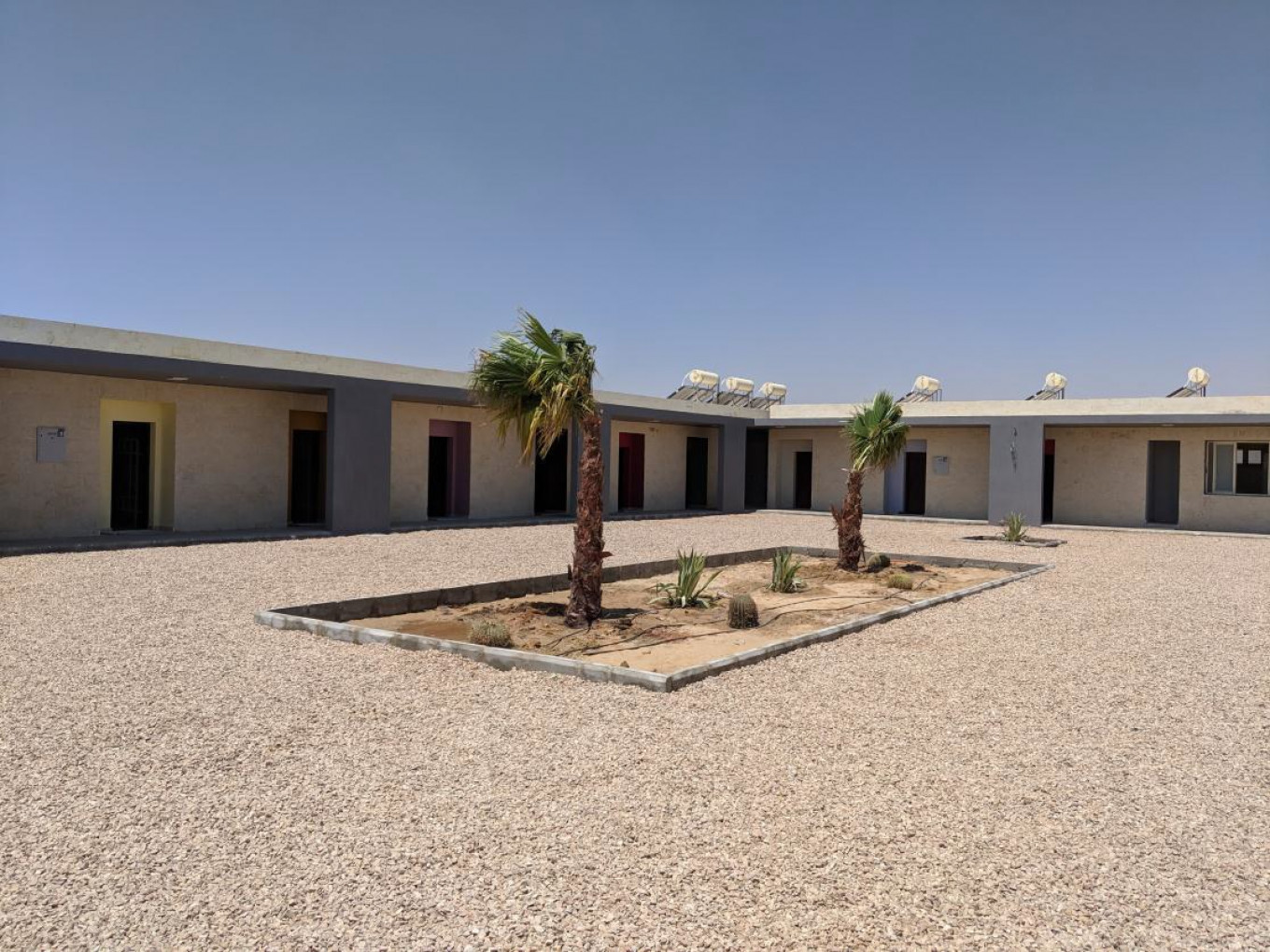 Description
One of the project's highlights is its approach to energy efficiency. All air conditioning devices were removed to reduce greenhouse gas emissions. The passive design of the building (i.e. building orientation, wall thickness, exterior colour, and ventilation) increased its ability to remain 8-10 degrees cooler in summer and warmer in the winter. A number of measures are undertaken in the building such as: reflective tiles for roof and outdoor paving is used, outdoor lighting full cutoff, proper disposal of construction waste in municipal landfills, recycling construction waste, waste segregation at source and reduced indoor air contaminants in the form of VOC (volatile organic compounds) that are harmful to occupants. The building also has a garden attached with organic fruits and vegetables.
Project info
Construction phase

New construction

Building type

Multi Family House (MFH)

Detailed building type

Retail / Trade

Net floor area

819 m2

Stories

1 story

Construction type

Concrete

Original construction year of the building

2015

Project contact

Eng. Salma Khalil

Contact email address

salma.khalil@royalherbs.com
Project team
Developer(s)/owner(s)

Royal Herbs

Architect(s)

ECOnsult

Energy efficiency consultant(s)

ECOnsult
Building Rating and Certifications systems
Rating and certifications systems

Tarsheed
Building Envelope
External walls
Description of construction

122mm + 120 mm + 7 mm rockwool insulaton
Roof
Roof type

Flat roof
Openings and windows
Glazing type

Double glazed

Description of construction

Use Low-E coated glass for all windows with width 800mm or larger/Use double glazing with higher thermal performance glass
Additional thermal insulation materials
Specification

Roof insulation: 75mm heat insulating foam
Technical Building Systems
Space cooling system
Primary space cooling system

Wall Fans
Water heater system
Primary water heater system

Solar Thermal collector on the roof
Lighting system
Primary lighting system

LED (Light emitting diode lamps)
Shading devices
Description

Static (fix) shading systems as part of the building architecture (e.g. Maschrabiyya, porch roofs, pergolas)
Photovoltaics
Capacity

70 kWp

Description

This is the total capacity for several buildings within the same project.