Beirut , Lebanon
LOS Office Building
The project achieved the LEED Gold certification in 2019. Some climate-friendly features of the building include external vertical shading, PV panels, efficient double-glazing, a high-efficiency VRF system and solar water heaters. A full 3D energy model was conducted to estimate the energy costs reduction compared to an ASHRAE-prescribed baseline scenario resulting in 13.1% energy improvement. LOS has one fully glazed curtain wall on the Eastern façade with efficient double glazing. External vertical shading elements on the western façade with a reduced window-to-wall ratio also help reduce the solar gains. The roof is insulated with 5 cm extruded polystyrene and shaded by photovoltaic panels. A high efficiency VRF system is used for space cooling and heating. solar water heaters are used for domestic hot water and PV panels are also installed.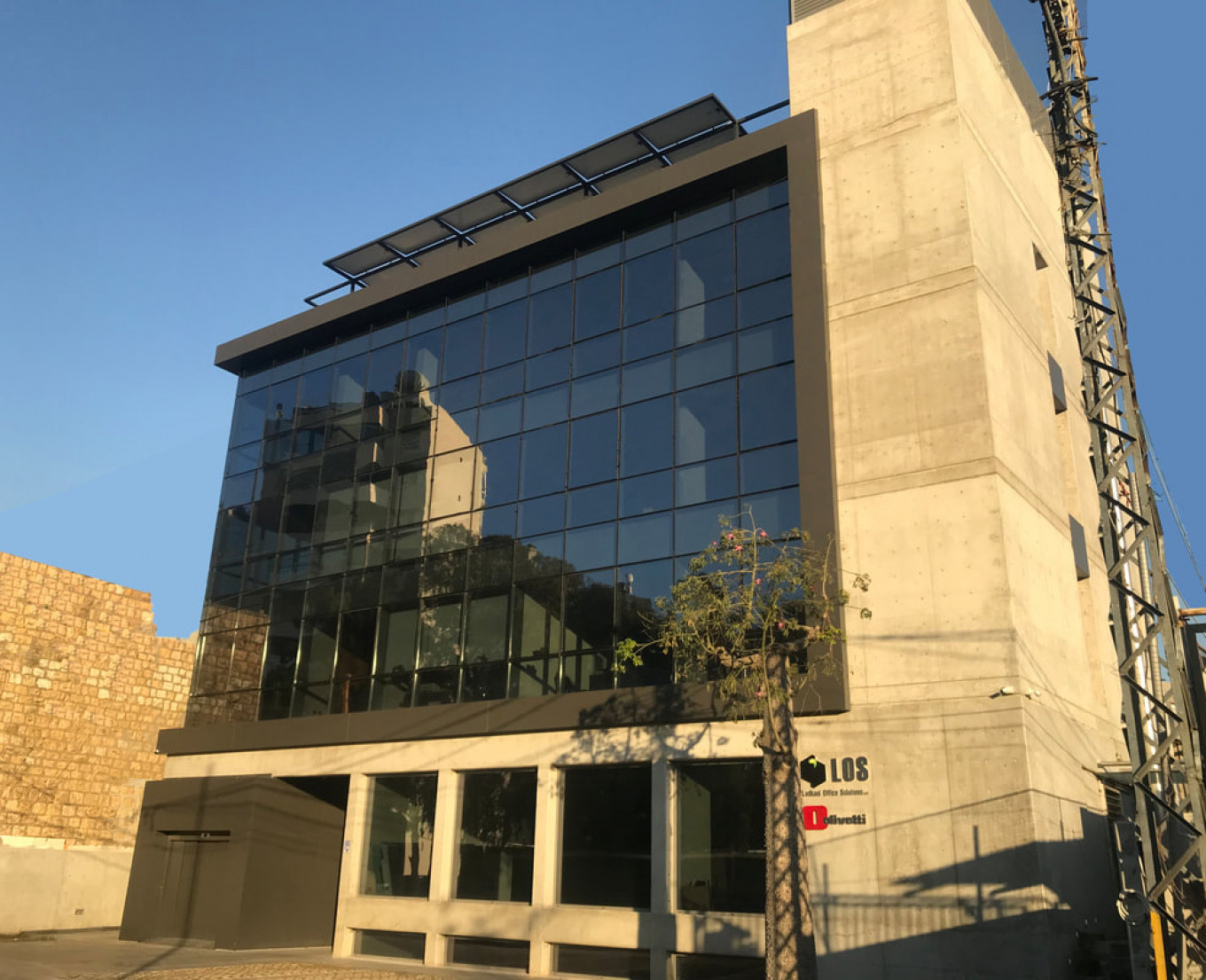 Project info
Construction phase

New construction

Building type

Non-residential building

Detailed building type

Office

Net floor area

1701 m2

Land plot size

586 m2

Stories

4 stories

Construction type

Concrete

Original construction year of the building

2019

Project contact

Imad Ladkani

Contact email address

i.ladkani@losgroup.net
Project team
Developer(s)/owner(s)

Imad Ladkani

Architect(s)

Avedissian & Partners Architects

Energy efficiency consultant(s)

EcoConsulting

HVAC consultant(s)

Ibrahim Mounayar

Building services

Ibrahim Mounayar
Building Rating and Certifications systems
Rating and certifications systems

LEED
Building Envelope
External walls
Description of construction

30cm concrete wall incl. thermal insulation

U-Value

0.26 W/(m²*K)
Roof
Roof type

Flat roof

Description of construction

Concrete slab with 5cm extruded polystyrene insulation

U-Value

0.52 W/(m²*K)
Openings and windows
Glazing type

Double glazed

U-Value glass

3.3 W/(m²*K)

G-Value glass

0.54

Frame material / description

Aluminum frame

Overall u-value window

2.79 W/(m²*K)

Description of construction

Low E double glazing 5, 5, 5
Basement floor
Description of construction

Concrete slab
Technical Building Systems
Ventilation system
Type of ventilation

Mechanical ventilation system without heat recovery
Space cooling system
Primary space cooling system

Centralised chiller │Usually a central system located in the basement

Description

VRV System

Secondary space cooling system

Mounted single-split or window air conditioner│Usually a visible smaller system mounted outside the wall or above the window just supplying one room

Description

DX System for the server room
Space heating system
Primary Space heating system

Air-conditioning system (reversible for heating; air-air heat pump)

Description

VRV System
Water heater system
Primary water heater system

Solar Thermal collector on the roof
Lighting system
Primary lighting system

LED (Light emitting diode lamps)

Efficiency

100
Shading devices
Type of shading system installed

Static (fix) shading systems as part of the building architecture (e.g. Maschrabiyya, porch roofs, pergolas)

Description

Vertical shades are installed on western facade between windows. They are perpendicular to the façade and protrude 35 cm.
Photovoltaics
Capacity

11.52 kWp

Description

Installed on the roof
Final Energy Demand
Energy carrier (1)

Electricity

Annual heating demand

10 kWh/(m²*a)

Annual cooling demand

15.65 kWh/(m²*a)

Annual lighting demand

14.76 kWh/(m²*a)

Annual hot water demand

4.85 kWh/(m²*a)

Total specific final energy demand

78.88 kWh/(m²*a)
Financial Aspects
Project construction cost

1700000 EUR

Certification costs

3555 EUR

Financing sources

Own + subsidised loan

Financing/funding institution

NEEREA