Giza, Egypt
Mall of Egypt
The vision of Majid Al Futtaim Properties Egypt was to create a luxurious regional shopping center that will not only dominate 6th of October City, but Giza as a whole. The nearly 2 million square feet of shopping and leisure complex contains more than 1.5 million square feet of leasable retail space along with the potential for several long-term retail development projects. Several large-scale tenants include a movie theater, a hypermarket grocery store, an amusement park, and an indoor ski slope. Beneath the building, a ventilated undercroft area provides delivery trucks with access for unloading and delivering products to retail stores.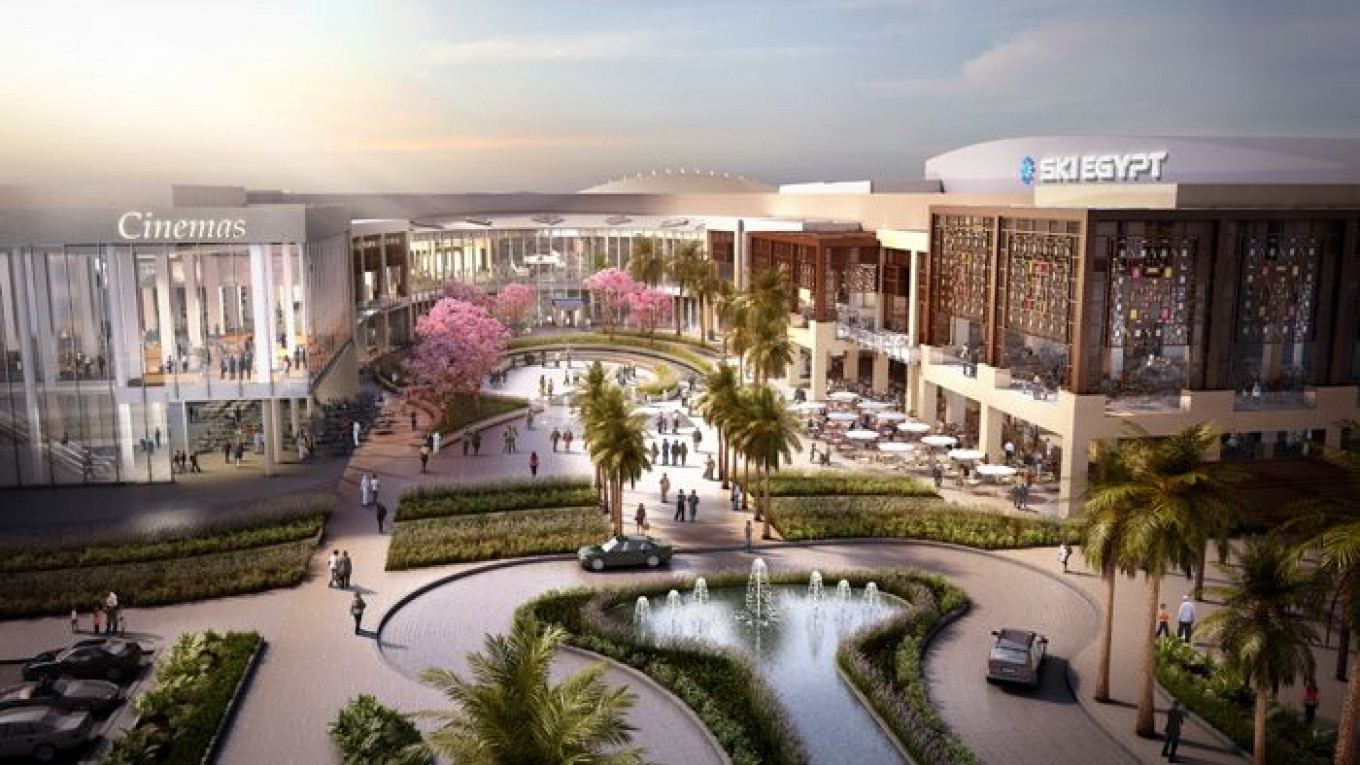 Project info
Construction phase

New construction

Building type

Non-residential building

Detailed building type

Retail / Trade

Net floor area

2101440 m2

Land plot size

400000 m2

Stories

2 stories

Original construction year of the building

2011

Project contact

Diaa Yahia - Majid Al Futtaim Properties Egypt

Contact email address

diaa.yahia@maf.ae
Project team
Developer(s)/owner(s)

Majid Al Futtaim Properties Egypt

Architect(s)

Medhat AbouZeid Egyptian Consulting House (MZECH)

Construction contractor(s)

Besix Orascom Joint Venture (BOJV)

Energy efficiency consultant(s)

Flack+Kurz

HVAC consultant(s)

Shaker Consulting Group (SCG)

Building services

Lighting Consultant: BDP, Landscape architect: Tarek Bashir Consulting (TBC), Snow consultant: WSP
Building Rating and Certifications systems
Rating and certifications systems

LEED
Building Envelope
External walls
U-Value

0.35 W/(m²*K)
Roof
U-Value

0.24 W/(m²*K)
Openings and windows
Frame material / description

Metal framing

Overall u-value window

2.11 W/(m²*K)

Description of construction

SHGC 0.25
Basement floor
Description of construction

N.A.
Additional thermal insulation materials
Specification

Skylight U-value 2.18 W/m2K, Skylight SHGC 0.36
Technical Building Systems
Ventilation system
Type of ventilation

Mechanical ventilation system with heat recovery
Space cooling system
Primary space cooling system

Centralised chiller │Usually a central system located in the basement
Water heater system
Primary water heater system

Dedicated electric heater (dedicated = just hot water generation)

Description

381.6 Gallon Electric Hot Water Heater for Restroom Hand Washing
Shading devices
Type of shading system installed

Static (fix) shading systems as part of the building architecture (e.g. Maschrabiyya, porch roofs, pergolas)

Description

Parking garage on North and South
Photovoltaics
Capacity

1000 kWp

Description

It is installed on the top level of the car park, using it also as shading for the parked cars at this level. The array is estimated to generate about 1500 MWh of green electricity a year, approx. 2.3% of the total annual energy cost.
Other technical building systems
Description

The project has achieved an energy cost savings of 16.08% using the ASHRAE Standard 90.1-2007, Appendix G methodology. The Proposed Building Design exceeds the Baseline Building Design performance by 16.4%. With the help of specialist Egyptian companies, BESIX was able to recycle 75% of the waste of all trades on the construction site, an effort that contributed to the LEED Gold environmental certification awarded to the complex.
Final Energy Demand
Energy carrier (1)

Electricity

Energy carrier (2)

Gas a

Total specific final energy demand

64150345 kWh/(m²*a)
Financial Aspects
Project construction cost

400000000 EUR