Manama, Bahrain
Bahrain World Trade Center (BWTC)
Designed by Architectural Firm, Atkins and Architect, Shaun Killa, the strikingly beautiful Bahrain World Trade Center (BWTC) building has become synonymous with Bahrain. The skyscraper has a noteworthy reputation and has won multiple awards, not only for its ground-breaking architecture but for its innovative design as the first commercial building in the world to fully integrate large-scale wind turbines into its design. The buildings design was inspired by traditional Arabian wind towers with sustainability being incorporated from its conception, reducing its overall power consumption by harnessing the sea breeze and self-generating power. BWTC's other renewable energy solutions include district cooling, water recycling, thermal insulation, reflection pools for evaporative cooling, low-leakage windows, and thermal glass with a low solar gain.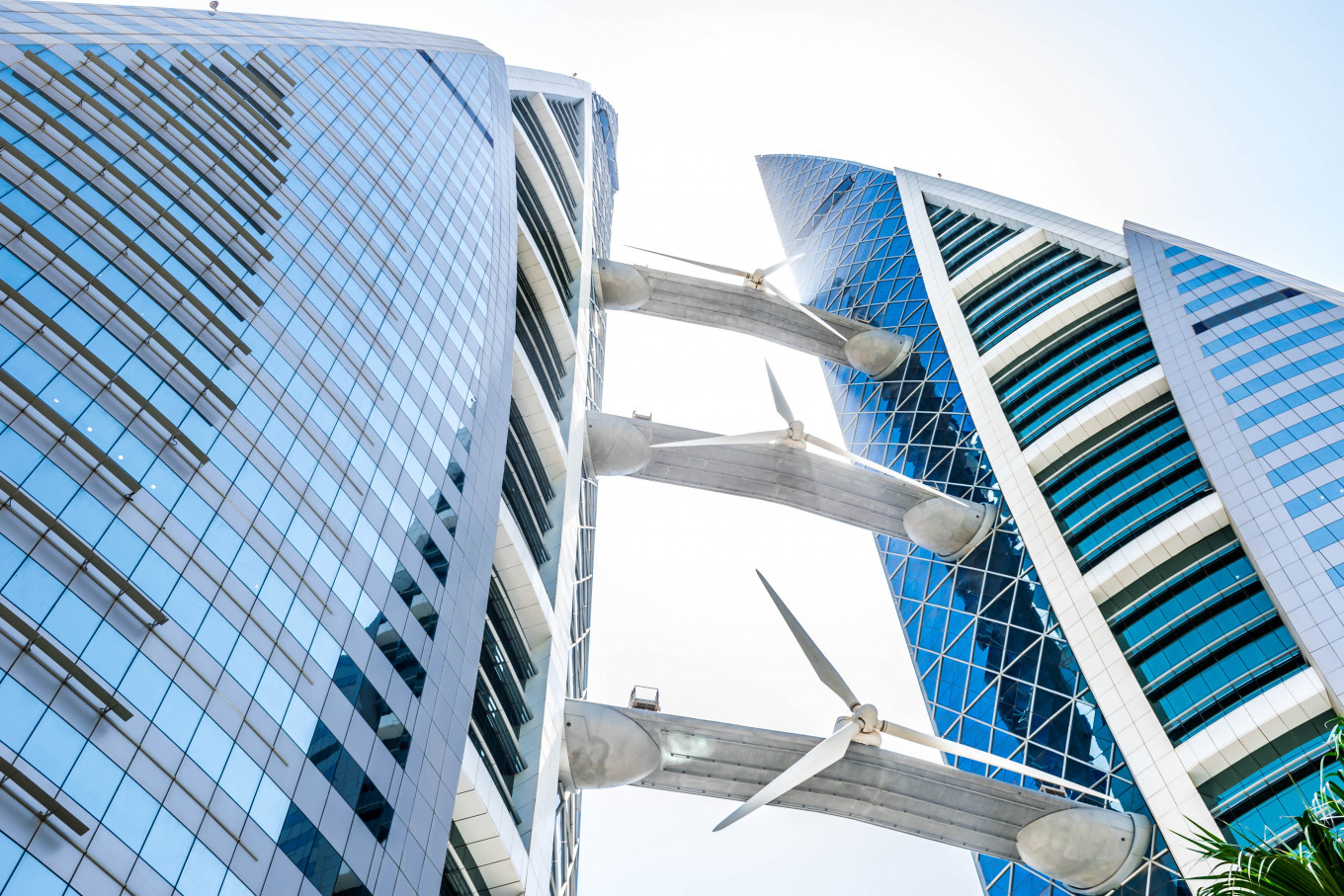 Project info
Construction phase

New construction

Building type

Non-residential building

Detailed building type

Retail / Trade

Net floor area

88617 m2

Land plot size

16500 m2

Stories

50 stories

Original construction year of the building

2008

Project contact

Help Desk

Contact email address

Marketing@bwtc.com.bh
Project team
Architect(s)

Atkins

Construction contractor(s)

Nass - Murray & Roberts, Norwin A/S,Elsam Engineering

Energy efficiency consultant(s)

Atkins

HVAC consultant(s)

Atkins

Building services

Mercury & Emco

Other project team partners

HAJ
Building Rating and Certifications systems
Rating and certifications systems

Other

Other certification

LEAF Award for Best Use of Technology within a Large Scheme 2006. EDIE Award for Environmental Excel
Building Envelope
External walls
Description of construction

Enough buffer spaces have been incorporated between the external environment and air-conditioned spaces to reduce solar gain on the building. Two car park decks above and on the southern side of the building minimise solar air temperature.
Roof
Roof type

Single Pitch Roof

Description of construction

There are deep gravel roofs that provide kinetic insulation, and energy efficient lighting, all of which demonstrate global leadership in the commitment to reduce demand of fossil fuel energy reserves.

U-Value

0.48 W/(m²*K)
Openings and windows
Glazing type

Double glazed

U-Value glass

1.8 W/(m²*K)

G-Value glass

0.32

Frame material / description

1.8

U-Value frame

1.8 W/(m²*K)

Overall u-value window

1.8 W/(m²*K)

Description of construction

Double paned window consist of two facing glass panels in a frame separated by a small space filled with non-toxic gas to improve insulation
Basement floor
Description of construction

Dense concrete core and floor slabs presented to the internal environment in a manner that will leave loads and reduce peak demand with associated reduction in air and chilled water transport system.
Technical Building Systems
Ventilation system
Type of ventilation

Mechanical ventilation system with heat recovery

Description

Total heat energy recovery heat wheel of fresh air intake and exhaust to recover "coolth" from the vitiated air and recover it to the fresh makeup air.

Manufacturer(s) / products

SKM
Space cooling system
Primary space cooling system

Centralised chiller │Usually a central system located in the basement

Description

The building is cooled by highly innovative air conditioning and cooling system using chilled water. It provide an environmentally sound alternative to conventional cooling system through recycling of water.

Manufacturer(s) / products

AHU's & FCU's - SKM Pumps- Grundfos

Secondary space cooling system

There are reflection pools at entry points of the building, providing local evaporative cooling.
Space heating system
Primary Space heating system

District heating
Water heater system
Primary water heater system

Combi system (system provides space heat & hot water)

Description

Water consumption saving initiatives include: All the toilets have been installed with sensor wash basin mixers and urinals. The irrigation system is timer based which allows efficient usage of water.
Lighting system
Primary lighting system

LED (Light emitting diode lamps)

Description

Amenity lighting and high-frequency, energy-saving fluorescent lighting with zonal control are included in the building design.

Manufacturer(s) / products

Pulsar / Philips / Osram
Shading devices
Type of shading system installed

Static (fix) shading systems as part of the building architecture (e.g. Maschrabiyya, porch roofs, pergolas)

Description

Energy reducing measures include innovative usage of shading across a significant proportion of projectile shading to external glass façade to minimise solar gains, deep gravel roofs that provide kinetic insulation, and energy efficient lighting, all of which demonstrate global leadership in the commitment to reduce demand of fossil fuels.
Other technical building systems
Description

Solar powered road lighting
Final Energy Demand
Energy carrier (1)

Electricity

Annual cooling demand

265 kWh/(m²*a)

Annual lighting demand

60 kWh/(m²*a)

Total specific final energy demand

N/A kWh/(m²*a)
Financial Aspects
Project construction cost

124500000.00 EUR