Marsa Alam, Red Sea Governorate, Egypt
Private Beach House
This private Beach House is a three-bedroom single story structure. It is mainly built from load-bearing coral lime stones that have been repurposed from discarded limestone from nearby roadworks . The project is powered by an on-site solar station built by KarmSolar and has been designed using passive architectural design strategies to enhance its performance and drastically reduce energy consumption. A wind catcher next to a solar chimney act as a physical pair of lungs for the house ensuring that natural air flows in and out of the house when needed. A secondary wall surrounding the south-exposed portions of the house provides an extra layer of protection and a crucial cooling aid in summer. Thick load-bearing earth walls made of coral limestone help regulate temperatures during all seasons, cooling the indoor environment in summer and retaining the heat during winter nights. The design ensures that every space gets full and unobstructed views of the Red Sea.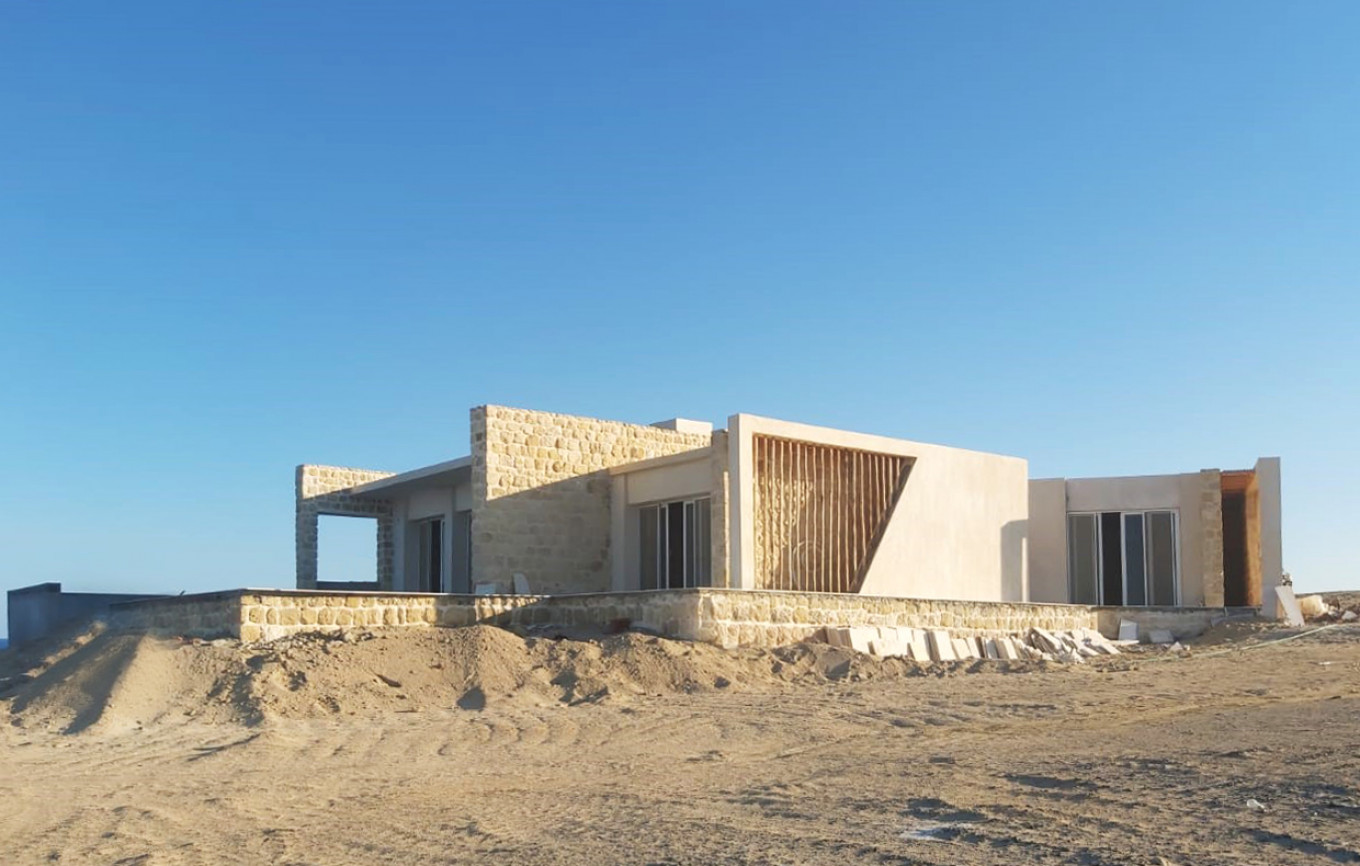 Project info
Construction phase

New construction

Building type

Single Family House (SFH)

Detailed building type

Single Family House (SFH) - detached

Net floor area

245 m2

Land plot size

580 m2

Stories

1 story

Construction type

Load Bearing Masonry

Original construction year of the building

2018

Project contact

Farah Faheem

Contact email address

farah.faheem@karmsolar.com
Project team
Developer(s)/owner(s)

Private

Architect(s)

KarmBuild

Construction contractor(s)

KarmBuild

Energy efficiency consultant(s)

KarmBuild

HVAC consultant(s)

KarmBuild

Building services

KarmBuild

Other project team partners

Civil Consult (Structural Consultant)

Additional information

KarmBuild provided the architecture, interior design consultancy, and project construction management.
Building Rating and Certifications systems
Rating and certifications systems

Not applicable
Building Envelope
External walls
Description of construction

Retaining wall supported platform with embedded foundations, eliminating any excavations respecting the coral limestone formations. 90% of the walls are exposed load-bearing coral limestone from 60 to 40cm thick. The rest are 25cm red brick masonry.

U-Value

1.05 W/(m²*K)
Roof
Roof type

Flat roof

Description of construction

A typical 20cm thick reinforced concrete slab roof structure. The layers from the inside to the outside are: wood frames, reinforced concrete, foam insulation, light concrete, sand, cement and cladding.

U-Value

0.389 W/(m²*K)
Openings and windows
Glazing type

Double glazed

U-Value glass

2.8 W/(m²*K)

G-Value glass

0.5

Frame material / description

Aluminum

Overall u-value window

2 W/(m²*K)

Description of construction

2-panel sliding aluminum window frames.
Basement floor
Description of construction

Reinforced concrete base with (water proofing + insulation and thickness) + (finishes)

U-Value

1.98 W/(m²*K)
Technical Building Systems
Ventilation system
Type of ventilation

Free ventilation (windows)

Description

free ventilation (windows), a wind catcher tower and a solar chimney tower. Cooling and ventilation improvements in summer due to windcatcher and solar chimney are over 25% in terms of hours within the comfort range.
Lighting system
Primary lighting system

LED (Light emitting diode lamps)

Efficiency

100

Description

Typical LED lights
Shading devices
Type of shading system installed

Static (fix) shading systems as part of the building architecture (e.g. Maschrabiyya, porch roofs, pergolas)

Manufacturer(s) / products

Locally manufactured
Photovoltaics
Description

The project is powered by an on-site solar station built by KarmBuild's sister company KarmSolar
Other technical building systems
Description

The project is powered by an on-site solar station built by Karmbuild's sister company KarmSolar. No PVs are installed on the building itself.

Manufacturer(s) / products

KarmSolar
Final Energy Demand
Energy carrier (1)

Electricity

Annual lighting demand

18.1 kWh/(m²*a)

Annual hot water demand

10.3 kWh/(m²*a)

Total specific final energy demand

49.01 kWh/(m²*a)
Financial Aspects
Project construction cost

89240 EUR