New Cairo, Egypt
AUC Faculty Housing Plot 3
The AUC Faculty House at Plot 3 is a multi-story residential housing complex consisting of four floors, a basement, and an accessible green roof. The housing complex consists of 40 apartment units, a reception area/lobby and shared common services. AUC has initiated a LEED Silver certification.
The AUC Faculty Housing Plot 3 has features including a green roof, solar heating, energy-efficient doors and windows, motion sensors, submeters, and a landscape rich with low-impact, native plants.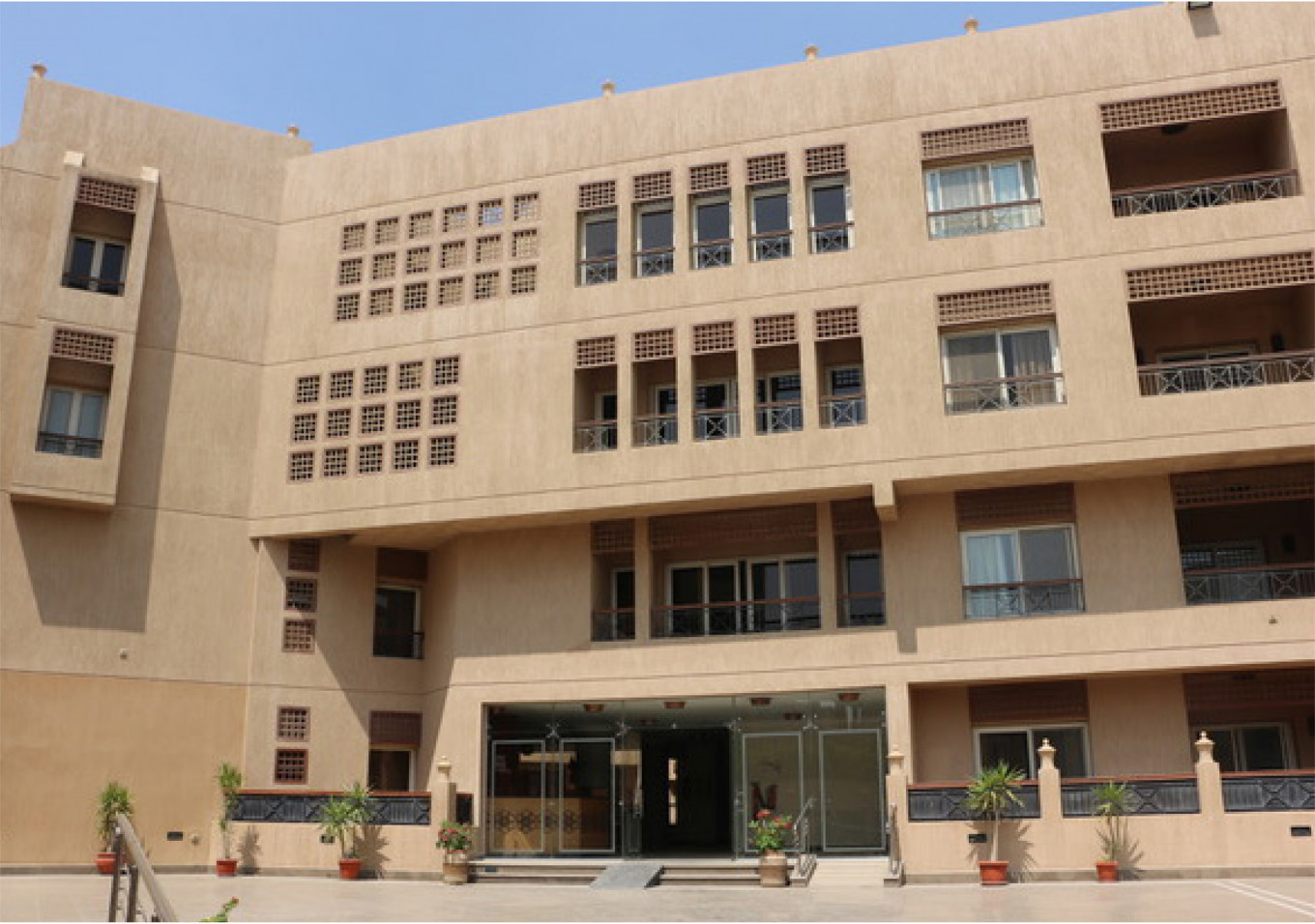 Project info
Construction phase

New construction

Building type

Multi Family House (MFH)

Detailed building type

Multi Family House / Apartment block - Large (> 1000m²) - detached

Net floor area

14.264 m2

Stories

5 stories

Construction type

Mixed construction

Original construction year of the building

2012

Project contact

Eng. Yasmine Mansour Mahmoud

Contact email address

y.mansour@aucegypt.edu
Project team
Developer(s)/owner(s)

The American University in Cairo

Architect(s)

EAG Egyptian Architect Group - Khaled Zakaria El Adli

Construction contractor(s)

NAP Contractors, Al Thoraia and El Basel for Contracting

Other project team partners

Dr. Ali Abdel Rahaman - Civil and architecture consultant
Building Rating and Certifications systems
Rating and certifications systems

Not applicable
Building Envelope
External walls
Description of construction

The structure is made of a typical reinforced concrete column and slab system. Both interior and exterior walls use typical brick and cement mortar.
Roof
Roof type

Flat roof

Description of construction

Green roof offsets some of the carbon emissions of the building. There is an automatic irrigation and drainage system to maintain the grass and plants. For sustainable pest control, a sprayer is used for fumigating the green roof as needed.
Openings and windows
Glazing type

Double glazed

U-Value glass

2.8 W/(m²*K)

Frame material / description

Sliding windows with sashes that can be operated by sliding left or right within a single frame. Vinyl frames are energy efficient.

Overall u-value window

2.8 W/(m²*K)
Basement floor
Description of construction

N/A
Technical Building Systems
Ventilation system
Type of ventilation

Free ventilation (windows)

Description

The ventilation system equipment and associated components are maintained in accordance with the plan developed for EA prerequisite Energy Efficiency Best Management Practices.
Space cooling system
Primary space cooling system

Mounted single-split or window air conditioner│Usually a visible smaller system mounted outside the wall or above the window just supplying one room
Water heater system
Primary water heater system

Solar Thermal collector on the roof

Description

The solar water heaters are adjusted semi-annually; Before the winter, the temperature is adjusted to be between 45 - 50 degrees Celsius and Before the summer, the temperature is adjusted to be between 35-38 degrees Celsius.
Lighting system
Primary lighting system

LED (Light emitting diode lamps)

Efficiency

100

Description

Corridors and stairs have motion sensors. Landscape lighting have automatic sensors that turn on whenever it is dark according to winter and summer timings.
Shading devices
Type of shading system installed

Manual systems (e.g. roller shutters, folding shutters, external blinds)

Description

Maschrabiyya aluminum outdoor on the front building, canvas blinds in the apartments, folding shutters in the entrance, pergola on the roof.
Photovoltaics
Manufacturer(s) / products

Schneider Electric
Final Energy Demand
Energy carrier (1)

Electricity

Annual heating demand

166.8 kWh/(m²*a)

Annual cooling demand

108.38 kWh/(m²*a)

Annual lighting demand

99.069 kWh/(m²*a)

Annual hot water demand

55.8 kWh/(m²*a)

Total specific final energy demand

262.859 kWh/(m²*a)
Primary Energy Demand & Emissions
Primary energy demand

157680.00 kWh/(m²*a)

CO2 emissions

94134.96 kg/(m²*a)

CO2e emissions

44321.28 kg/(m²*a)
Financial Aspects
Financing sources

Own