Rabat, Morocco
Terasses El menzeh
This project, Terasses El menzeh, is one of the first projects in Morocco to comply with RTCM thermal regulations. it is made up of six adjacent buildings in three blocks with 72 apartments with orientation for optimal sunshine in all rooms (double L-shaped façade). the three blocks of buildings are articulated in three volumes around green patios promoting privacy of semi-private spaces.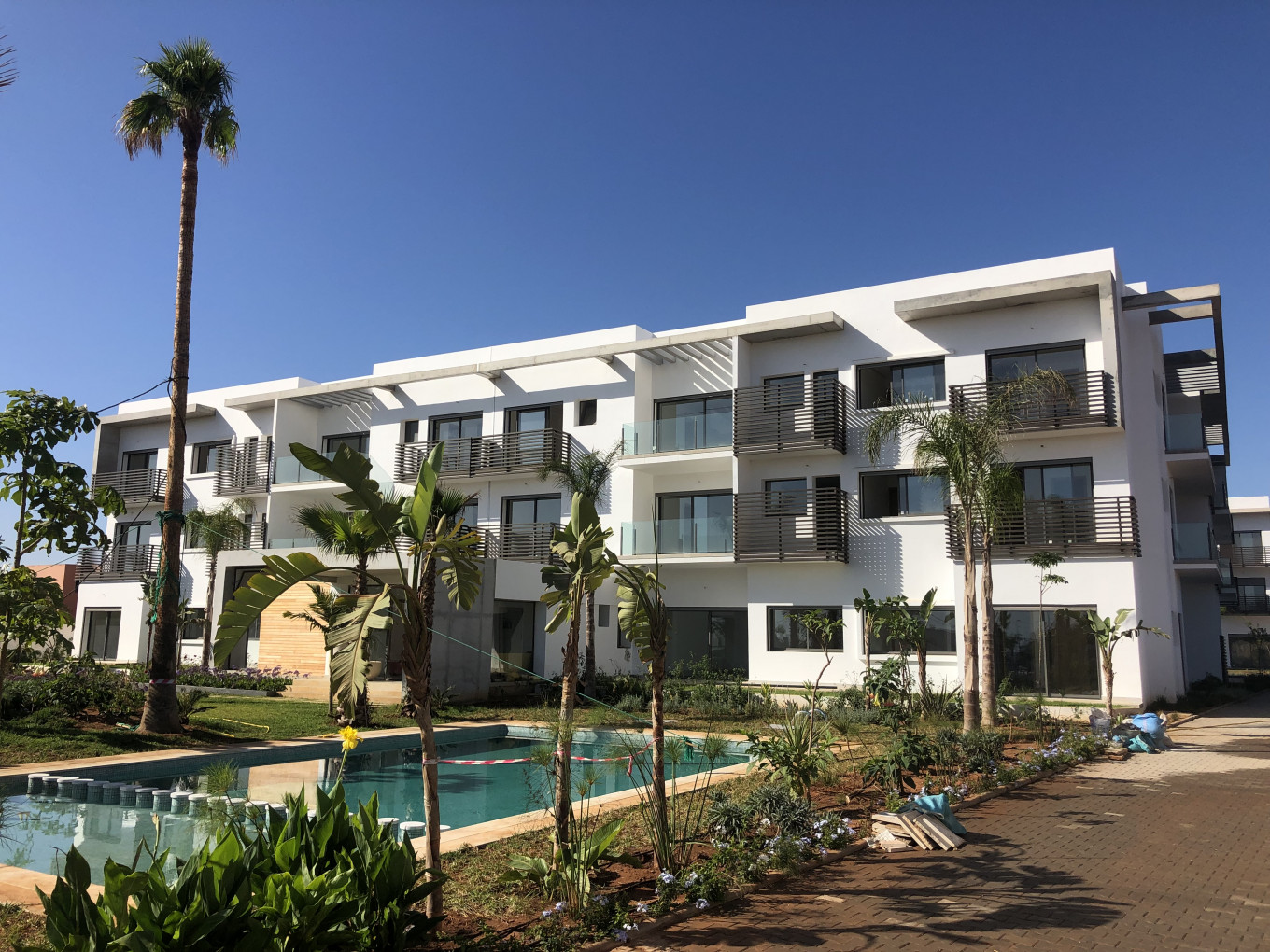 Project info
Construction phase

New construction

Building type

Multi Family House (MFH)

Detailed building type

Multi Family House (MFH) - Small (≤ 1000m²) - attached

Net floor area

14024 m2

Stories

3 stories

Construction type

Mixed construction

Original construction year of the building

2019

Project contact

Meriem TAHIRI

Contact email address

agmeriemtahiri@gmail.com
Project team
Developer(s)/owner(s)

Interprojet de construction Sarl

Architect(s)

Meriem TAHIRI

Construction contractor(s)

Interprojet de construction Sarl

Additional information

Email of Architect: agmeriemtahiri@gmail.com Tel: +212 (0) 5 37 74 13 28
Building Rating and Certifications systems
Rating and certifications systems

Not applicable
Building Envelope
External walls
U-Value

0.60 W/(m²*K)
Roof
Roof type

Flat roof

U-Value

0.53 W/(m²*K)
Openings and windows
Glazing type

Double glazed

Overall u-value window

3.23 W/(m²*K)
Basement floor
U-Value

0.63 W/(m²*K)
Technical Building Systems
Space cooling system
Primary space cooling system

Mounted single-split or window air conditioner│Usually a visible smaller system mounted outside the wall or above the window just supplying one room

Description

Split System wait
Space heating system
Primary Space heating system

Air-conditioning system (reversible for heating; air-air heat pump)

Description

Split system
Water heater system
Primary water heater system

Solar Thermal collector on the roof

Description

Solar water heaters
Lighting system
Primary lighting system

LED (Light emitting diode lamps)

Efficiency

100

Description

Lighting with LEDs and installation of timers with presence detectors in common areas.

Secondary lighting system

Bay windows with double glazing.

Description

Project design with large bay windows opening onto terraces to benefit from good natural daylight which minimises and reduces electricity consumption while opting for double glazing.
Shading devices
Type of shading system installed

Manual systems (e.g. roller shutters, folding shutters, external blinds)

Description

Electric roller shutters and large awning for all terraces. The use of large awnings at the level of the bay windows of the terraces as well as the windows to provide shade in the summer period to reduce the contributions of solar radiation and reduce the use of the air conditioning system and in winter store solar rays when there is less sunlight..
Photovoltaics
Description

N/A
Final Energy Demand
Total specific final energy demand

Final energy saving of about 22 KWh/m²/Year kWh/(m²*a)