Sin El Fil, Lebanon
ACE Headquarters
As one of Middle East's leading consulting design engineers, ACE has taken on the challenge of constructing a LEED accredited building, leading the way by example to demonstrate its commitment to save and protect the environment and provide its occupants with health and comfort.
ACE has committed to creating a green building for our HQ in support of maximizing efficiency, productivity, and comfort of all the occupants. The ACE Headquarters is a commercial type building for office use located in Sin El Fil, Cardinal El Sayegh Street, Lebanon. The building was designed to achieve LEED Gold certification using the latest technologies in Power reduction, Solar Energy usage, and utility savings.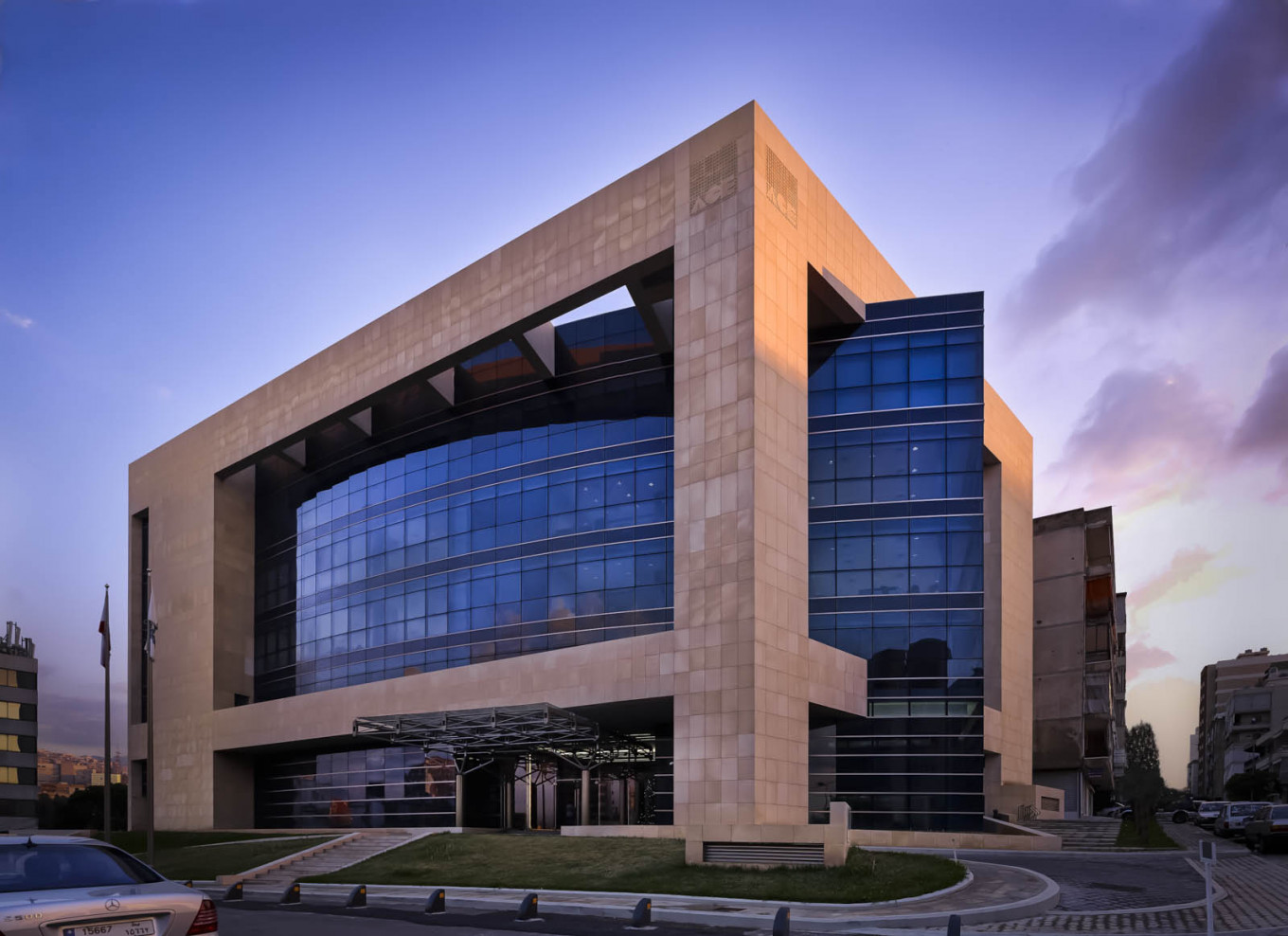 Project info
Construction phase

New construction

Building type

Non-residential building

Detailed building type

Office

Net floor area

5384.82 m2

Land plot size

20882 m2

Stories

7 stories

Construction type

Mixed construction

Original construction year of the building

2012

Project contact

Elie Safi

Contact email address

elie.safi@ace-intl.com
Project team
Developer(s)/owner(s)

ACE/Mr. Hani Hakim

Architect(s)

Elie Safi

Construction contractor(s)

Jesco for Concrete, Bifem Paralu for curtain walls, Elcir for wood, Carlisle for Water proofing systems, Mitsulift for conveying systems and ACE for remaining works.

Energy efficiency consultant(s)

ACE

HVAC consultant(s)

Khater Engineering

Building services

Offices for engineering firm and related amenities
Building Rating and Certifications systems
Rating and certifications systems

LEED
Building Envelope
External walls
Description of construction

Concrete walls - Steel Framed, 300mm thickness, Absorptivity: 0.675.

U-Value

1.945 W/(m²*K)
Roof
Roof type

Concrete ceiling with hollow blocks

Description of construction

Total 475mm thick. HW concrete 360mm, Cement Plaster 10mm, Vapor barrier 5mm, Polyiso insulation 40mm, and top tiles 40mm. Absorptivity: 0.7

U-Value

0.458 W/(m²*K)
Openings and windows
Glazing type

Double glazed

U-Value glass

1.9 W/(m²*K)

G-Value glass

0.3

Frame material / description

Aluminum frame

U-Value frame

2.77 W/(m²*K)

Overall u-value window

2.37 W/(m²*K)

Description of construction

Concealed structure Aluminum curtain wall system.
Basement floor
Description of construction

Concrete retaining peripheral walls 300mm thick with epoxy paint over exposed concrete and low VOC paint over fairface concrete wall finish.

U-Value

1.611 W/(m²*K)
Technical Building Systems
Ventilation system
Type of ventilation

Fans

Description

Roof Exhaust fans for restrooms and Mechanical ventillation for Basements

Manufacturer(s) / products

Systemair / Parking fans, Fresh air fans for technical rooms in basements, Exhaust fans for restrooms.
Space cooling system
Primary space cooling system

VRV System / FAHU+CU

Description

VRV System / FAHU+CU cooling systems for open space offices, offices and general areas.

Manufacturer(s) / products

Hitachi/ VRV system and CIAT, Lenox for FAHU+CU

Secondary space cooling system

Mounted single-split or window air conditioner│Usually a visible smaller system mounted outside the wall or above the window just supplying one room

Description

mini Split units cooling for technical rooms (UPS room, Battery room, Server Room)

Manufacturer(s) / products

McQuay/ Split units
Space heating system
Primary Space heating system

District heating

Description

VRV System / FAHU+CU heating systems for open space offices, offices and general areas.

Manufacturer(s) / products

Hitachi/ VRV system and CIAT, Lenox for FAHU+CU
Water heater system
Primary water heater system

Solar Thermal collector on the roof

Description

Vacuum tube solar system

Manufacturer(s) / products

SunRain/ Vacuum tube solar system

Secondary water heater system

Dedicated electric heater (dedicated = just hot water generation)

Description

6KW Electrical boiler.

Manufacturer(s) / products

ELBI / Electrical boiler
Lighting system
Primary lighting system

LED (Light emitting diode lamps)

Description

LED lighting downlights for general and office spaces lighting.

Manufacturer(s) / products

Zumtobel / LED fixtures.

Secondary lighting system

LED (Light emitting diode lamps)

Description

LED desk lighting fixtures for each office. LED lighting 3.2W consumption each.

Manufacturer(s) / products

PAN/ Desk Light 3.2W LED. Ref. TAV30024
Shading devices
Type of shading system installed

Manual systems (e.g. roller shutters, folding shutters, external blinds)

Description

Sun Shade curtains
Photovoltaics
Capacity

18.48 kWp

Total module area

1322 m²

Description

"The solar photovoltaic system the new building in Sin El Fil supplies a given load of around 8 KW and net meter the rest of the energy back to the grid in a hybrid grid connect/stand alone system. The photovoltaic system promotes sustainable development and reduce pollution. ACEs new building in Sin El Fil has a green roof on top as well as some solar water heaters; this means that not the whole roof area can be utilized for photovoltaic panels. 18.48 KW of photovoltaic energy has been installed on the buildings roof. The PV panel used gives around 140 Watts and has an area of 1 m2. Inclination angle and shading factors have been taken into effect in order to maximize efficiency."

Manufacturer(s) / products

Mideast Power Systems (MPS)/ Solar Photovoltaic System
Final Energy Demand
Energy carrier (1)

Electricity

Annual heating demand

6.35 kWh/(m²*a)

Annual cooling demand

15.87 kWh/(m²*a)

Annual lighting demand

26.1 kWh/(m²*a)

Annual hot water demand

0.96 kWh/(m²*a)

Total specific final energy demand

92.33 kWh/(m²*a)
Financial Aspects
Project construction cost

6535982 EUR

Estimated costs of energy efficiency and renewable energy measures

653596 EUR

Certification costs

15000 EUR

Financing sources

Loan

Financing/funding institution

IBL Bank